Israeli Lawmakers Toss Marijuana Export Hot Potato Back to Netanyahu
In 2016, Israel set in motion a regulatory reform that could see the country turn into a leading exporter of medical cannabis
On Monday, an Israeli parliamentary committee meeting convened to discuss Israeli export of medical cannabis ended with a pro-export consensus, moving the ball to the Israeli prime minister's court.

For daily updates, subscribe to our newsletter by clicking here.

In 2016, Israel set in motion a regulatory reform that could see the country turn into a leading exporter of medical cannabis, leading almost 400 Israeli farmers to apply for cannabis growing permits, though only eight cannabis farms currently have approval. In 2017, an Israeli parliamentary committee estimated that cannabis export could generate as much as $1.1 billion a year for Israel.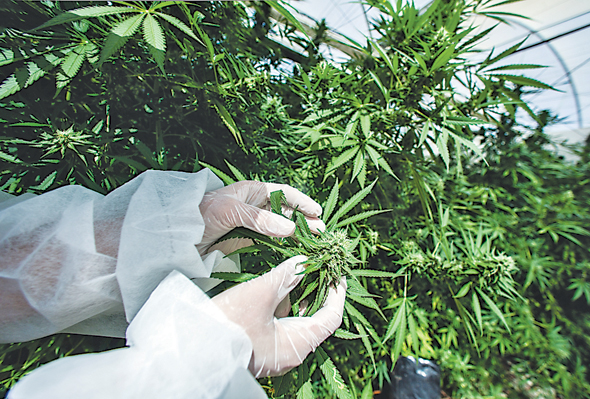 Cannabis. Photo: Bloomberg

Earlier this month, governmental disagreements caused Israeli Prime Minister Benjamin Netanyahu to send the plan back to his advisor, the chairman of Israel's National Economic Council Avi Simhon, for reassessment. As cannabis is classified as a drug according to Israeli law, its export requires Mr. Netanyahu's approval.

"There are tens of millions of people in the world for whom this is a last resort," said Israel's Minister of Agriculture and Rural Development Uri Ariel during the meeting. "We're not talking about any kind of narcotic, but about medicine. Israel shouldn't export any raw material, rather medicine created following studies, like any other kind of pharmaceutical."

Mr. Ariel also referred to several media reports in Israel that stated the standstill came about following a request by American President Donald Trump, who launched a campaign against marijuana legalization in the U.S. in early January. No request by President Trump concerning the issue came Israel's way, Mr. Ariel said.

The Israeli Ministry of Agriculture has been one of the strong supporters of the reform, along with the ministries of finance and justice. "As far as agriculture is concerned, this is one of the crops of the future," Mr. Ariel explained.

He stated that the decision is now in the hands of the Israeli prime minister, and that he wants to see the subject closed in the next few weeks.

The head of the committee, Eitan Cabel of the labor party, stated that his aim is to see medical cannabis export become a done deal. "It could be a dramatic change for Israeli agriculture, and if we don't do it, someone else will."

Last year's committee stated that the eight licensed farms currently operating in Israel can produce 25 tonnes of cannabis a year between them, while demand for medical cannabis in Israel does not exceed 10 tonnes, meaning Israel could export as much as 15 tonnes of medical cannabis a year even without issuing additional permits. According to the committee's report, U.K. is the current world leader in medical cannabis export, exporting just 1.8 tonnes a year.