SEAT to Integrate In-Car Sensors to Monitor Drivers' Alertness
The technology, developed by Israel-based gesture recognition company eyeSight, is currently being featured at the Mobile World Congress Show in Barcelona
Volkswagen Group's Barcelona-based subsidiary automaker SEAT S.A. teamed up with Israel-based gesture recognition company eyeSight Mobile Technologies Ltd. to integrate in-car driver monitoring systems in its vehicles, the companies announced Monday.

For daily updates, subscribe to our newsletter by clicking here.

EyeSight's technology uses infrared sensors and edge computing to monitor the driver's attention to the road, detect distractions and drowsiness and alert the driver or take proactive action through the car's built-in safety systems.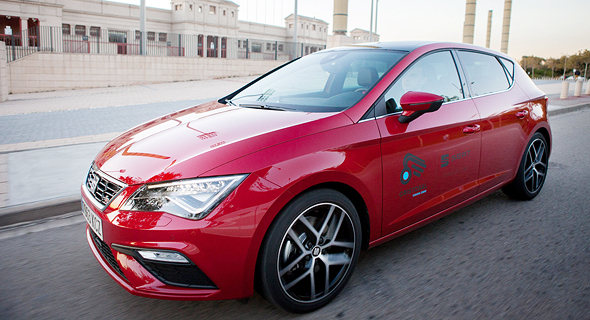 SEAT's safety-oriented concept car Leon Cristobal. Photo: PR

As driverless technologies are moving from partial to full autonomous capabilities, drivers' attention has come into focus as a major possible problem. Partial autonomous systems that are currently available require the driver to take control of the car in out of the ordinary situations. In-car monitoring systems can keep drivers alert, and can also be used to detect driver incapacitation, potentially shifting control to autonomous systems.

SEAT is currently showcasing the technology in its latest safety-oriented concept car Leon Cristobal at the 2018 Mobile World Congress Show in Barcelona.

Founded in 2003 eyeSight develops computer vision and gesture recognition technologies for hands-free interaction with various devices including cars, consumer electronics, smart homes and internet of things (IoT) devices. The company has raised over $26 million in equity funding to date. EyeSight is based in Herzliya, a town in the Tel Aviv metropolitan area, with additional offices in the U.S. and Hong Kong, and has over 50 employees, according to LinkedIn data.