Major Construction Project Expected to Clog Entrance to Jerusalem for the Next Five Years
The planned project, which is expected to cost about $435 million, will include housing units, hotels, offices and a transportation hub
On Sunday, the city of Jerusalem started works on a major construction project to create a new entrance to the city, which is scheduled for completion within five years. Construction works are expected to cause heavy traffic congestion in the main traffic arteries connecting Jerusalem and Tel Aviv for a period of five years.
For daily updates, subscribe to our newsletter by clicking here.
The planned project, which is expected to cost about NIS 1.5 billions (approximately $435 million), includes 24 towers, thousands of housing units, 2,000 hotel rooms, commerce facilities, 1,400 underground parking spaces, about 15 million square feet of office space and a transportation hub that facilitates an express train, two light rail lines, separate lanes for private and public vehicles.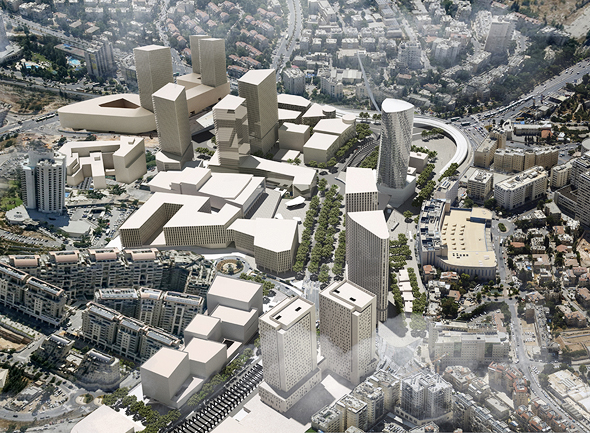 Jerusalem's planned new business district. Illustration: Topotek1 Berlin
The location's proximity to the destination station of the express line between Tel Aviv and Jerusalem will attract tech companies and startups, mayor of Jerusalem Nir Barkat said in Calcalist's Conference in London in September. "This will change the future of Jerusalem," he added. The project is planned to offer better infrastructure for office workers including easy access to the express train, energy efficient facilities and advanced communication infrastructure, Alon Spitzer CEO of Eden Jerusalem Center Development Company said in the conference.
The construction works are expected to take up to five years, during which, various roads and transportation lanes leading to the city as well as some of its inner streets will be temporarily closed.
In February, Israel's national railway company Israel Railways Ltd. announced that the launch of the express line between Tel Aviv and Jerusalem, originally scheduled for April, will be delayed by another six months due to regulatory difficulties, meaning commuters will have to wait until as late as October for any kind of relief in traffic.
The planned express line will travel a 41-mile route in 28 minutes, replacing the outdated existing rail line connecting Israel's two major cities that were erected in the 19th century and takes 1.5 hours to complete.