Tencent, Singulato, Cancel Visits to Israel Following Jerusalem Travel Warning
Business delegations from China and Japan have canceled planned visits due to safety concerns following President Trump's announcement recognizing Jerusalem as Israel's capital
Business delegations from Japan and China canceled planned visits to Israel this week due to safety concerns following a Wednesday announcement by U.S. President Donald Trump stating the U.S. recognizes Jerusalem as the capital of Israel. The announcement drew criticism from world leaders, and was followed by protests in Israel and elsewhere.
For daily updates, subscribe to our newsletter by clicking here.
Japanese and Chinese companies, due to arrive on business delegations, have canceled or pushed back their visits to Israel until early 2018, Tal Chen, a partner at Deloitte Israel, told Calcalist on Sunday, confirming that the cancellations had been due to safety concerns.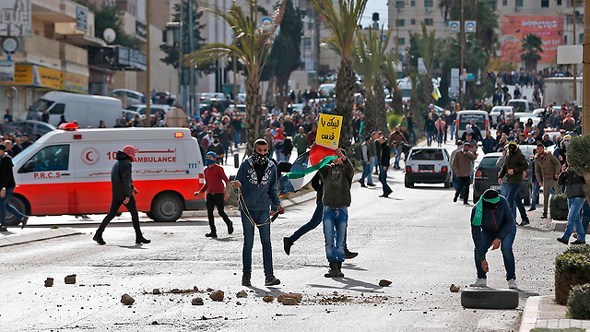 Protest in Jerusalem. Photo: AFP

A delegation from Chinese tech company Tencent Holdings Ltd. canceled a planned visit, according to Itay Friedjung, director of executive innovation and entrepreneurship program at The Hebrew University in Jerusalem, who spoke to Calcalist on Sunday. "On Friday we began getting phone calls and emails expressing safety concerns. One delegation requested security guards for its entire stay," Mr. Friedjung said, adding that the Innovation Program's entire December activity had been canceled.

Another delegation from China, which should have included the co-founder and CEO of Chinese electric car manufacturer Singulato Motors Shen HaiYin, canceled a planned visit, according to two persons familiar with the matter who spoke on conditions of anonymity. The delegation was due to arrive in Israel on Sunday but had canceled the visit on Saturday, according to one of these persons.

Tencent and Singulato Motors did not provide comment at the time of publication.

On Wednesday, U.S. President Trump signed a declaration officially recognizing Jerusalem as the capital of Israel and resolving to move the U.S. embassy from its current seat in Tel Aviv to Jerusalem "as soon as practicable."

"This long-overdue recognition of reality is in the best interests of both the United States and the pursuit of peace between Israel and the Palestinians," President Trump said in a speech announcing the policy shift.

Jerusalem has been the de facto capital of Israel since 1949, a year after the declaration of Israel's independence and 17 years before large parts of the city, including the mostly Palestinian East Jerusalem, were annexed by Israel during the Six Day War in 1967. Jerusalem is the seat of Israel's parliament and the country's supreme court and hosts the official residences of Israel's prime minister and president.

If moved to Jerusalem, the U.S. embassy would be the first foreign embassy in the city. There are nearly 80 embassies in Israel today, the majority of them located in Tel Aviv, Israel's commercial and cultural capital.

Following President Trump's declaration, the U.S. embassy in Israel, as well as other U.S. embassies in the region, have issued travel warnings to U.S. citizens visiting Jerusalem and its surrounding areas, the West Bank and the Gaza strip. On Friday, the U.S. consulate in Jerusalem issued a statement urging U.S. citizens to be vigilant and take measures to remain safe "in light of the current environment." The statement warned that protestors or militants might target U.S. government facilities and U.S. citizens. The statement followed an earlier ban on U.S. government employees traveling to Jerusalem's Old City and the West Bank, which remains in effect.

The Chinese embassy in Israel last week issued a travel warning to the area, which expires January 10.

On Thursday, Reuters reported that Ismail Haniyeh, head of the militant Islamist group Hamas, called for a new "Intifada," or uprising, against Israel, and urged Palestinians and the wider Arab world to hold rallies against President Trump's decision the next day, in what he called a "day of rage."

Several Israeli news outlets on Friday reported that thousands of Palestinian protesters demonstrated and engaged in violent clashes with Israeli security forces at multiple locations across the West Bank and Gaza Strip.

Calls for rallies and violence on Arab social media in the days following President Trump's declaration have drawn no more than a few hundred protesters in Jerusalem on Friday, according to a Sunday report by Israeli newspaper Yedioth Ahronoth. 13 protesters were arrested after blocking a road in Jerusalem and throwing rocks at Israeli police, according to the report.

Also on Friday, the Israeli Defence Force reported several missiles launched from the Gaza strip into Israel, with no reported injuries. One of the missiles fell in a kindergarten in Sderot, an Israeli town located around 8 miles east of Gaza, according to a second Yedioth Ahronoth Sunday Report. The Israeli Air Force struck in Gaza in retaliation. Authorities in Gaza reported 25 were wounded in the strikes.

On Saturday night, Israel's Ynet News reported that several dozen rioters threw stones and Molotov cocktails at Israeli Police in East Jerusalem.

In the Northern Israeli region of Wadi Ara, populated by a majority of Arabs with Israeli citizenship, a road was blocked due to demonstrations, according to another Yedioth Ahronoth report. The protesters have set tires on fire, attacked a photographer working for the newspaper, and threw rocks at a bypassing bus, causing traffic jams in one of Israel's busiest transportation arteries, according to the report. Two of the protesters were arrested, according to the report.

Protesters demonstrating President Trump's Wednesday declaration also took the streets of Paris, Lyon, Berlin, London, and Rome.

Fourteen out of fifteen members of the United Nations Security Council condemned President Trump's declaration in an emergency meeting held Friday.

In a Saturday report, Reuters cited a Turkish presidential source as saying Turkey's Tayyip Erdogan and France's Emmanuel Macron will cooperate in an attempt to persuade the U.S. to reconsider the decision.

Yair Geva, head of the tech department at Israeli law firm Herzog Fox & Neeman, told Calcalist on Sunday that the firm did not encounter any cancellations of concrete business meetings due to the geopolitical turmoil. The firm is currently working on some deals with Chinese and Japanese companies looking to make investments and acquisitions in Israel, Mr. Geva said.