Zebra Medical Gets CE Mark for Brain Bleed Detection Algorithm
The Israel-based medical analytics company offers AI-based automated analysis of medical images such as X-rays, CT and MRI
Medical analytics company Zebra Medical Vision Ltd. has received EU regulatory approval for a new algorithm capable of detecting brain bleeds, the company announced Tuesday. As of 2010, the EU considers software to be a medical device if it is intended to be used for medical purposes such as diagnosis and monitoring. The CE Mark means the company can now commercialize its new algorithm in 32 European countries.

For daily updates, subscribe to our newsletter by clicking here.

Established in 2014 and based in Israel, Zebra Medical uses artificial intelligence and machine learning algorithms for the automated analysis of radiological scans such as X-rays, CT scans, and MRI. The company's technology is already capable of identifying bone conditions such as fractures and low mineral density, liver diseases, lung conditions and cardiovascular problems, and Zebra Medical states its commercial analytics offering has already been used to analyze over a million scans. Zebra Medical has already received CE Marks for its previous algorithms.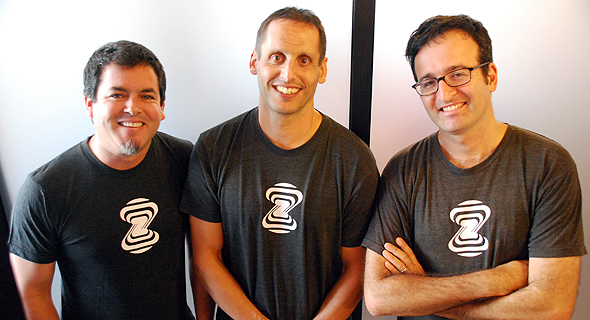 Zebra Medical Co-Founders Eyal Toledano, Elad Benjamin and Eyal Gura. Photo: PR

Intracranial hemorrhages—bleeding that occurs inside the skull—are usually diagnosed by CT or MRI scan. They constitute a medical emergency, as the rise in pressure they cause can damage brain tissue or lead to a reduction in blood supply, sometimes resulting in neurological problems or even death if not diagnosed and treated quickly enough. A study conducted in Ontario hospitals in the years 2002-2005 and published in medical journal Stroke found that missed or delayed diagnosis of such bleeding varied between 12% and 51%, with the likelihood significantly higher in non-teaching hospitals and in patients initially diagnosed as low acuity.

"This new algorithm is an important addition to Zebra's analytics engine," said in a statement neuro-radiologist Mike Phillips, chief of clinical and outreach services at American medical group Intermountain Healthcare. "The ability to alert radiologists and surgeons to the presence of brain bleeds is critical, and will bring significant benefits in patient care to healthcare organizations."

In 2017, Zebra Medical has stated its software is installed in 50 hospitals worldwide, but in November the company signed a partnership with healthcare services provider Change Healthcare, which works with 5,500 hospitals and over 800,000 physicians in the U.S. The same month, Zebra Medical revealed a partnership with Google's cloud platform, announcing it will make its services available to health providers worldwide at the cost of $1 per scan analysis.

Over the next few months, Zebra Medical intends to release several more detection algorithms, Co-Founder and CEO Elad Benjamin said in a statement.