Spotify to Launch Service in Israel Monday, Report Says
Last week, Spotify announced a plan to list on the New York Stock Exchange under the ticker SPOT
Music streaming company Spotify Technology S.A. is set to announce its official launch in Israel on Monday, according to a Wednesday report by Israeli consumer electronics blog Home Theater on Wednesday.
For daily updates, subscribe to our newsletter by clicking here.
Launched in 2008 and headquartered in Stockholm, Sweden, Spotify is available in 61 countries worldwide. Last week, Spotify announced a plan to list on the New York Stock Exchange under the ticker SPOT. According to the company's prospectus, it is targeting a $1 billion direct public offering. Based on the pricing of company stock traded on private markets, Spotify is valued at $23.4 billion.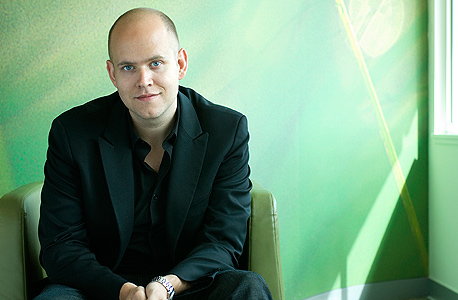 Daniel Ak, Spotify CEO. Photo: PR
On Tuesday, Forbes reported that Spotify is expected to launch its service in South Africa this month.
According to Home Theater, Spotify has been negotiating its entry into Israel for several months, but the launch was delayed due to continuous disagreements with an Israeli nonprofit organization that represents many of the country's most popular artists with regard to royalties and copyrights protection called the Israeli artists' copyrights organization Society of Authors, Composers and Music Publishers in Israel (ACUM).
According to the report, several weeks ago Spotify and ACUM finally reached an agreement on the value of royalties Spotify will pay Israeli artists, paving the way for the long-awaited launch.
Spotify had 159 million users in December 2017, 71 million of whom paying subscribers, according to company data, making it the world's premier music streaming service, followed by Apple Music with 36 million subscribers.
In Israel, Spotify will face competition from international streaming services such as Apple Music, Deezer, and Tidal, and local services offered by Israel-based cellular carriers.