Predictive Patient Care Startup Medial EarlySign Raises $30 Million
The round was led by life science fund aMoon Partners, with participation by Li Ka-Shing's Horizon Ventures
Predictive patient care startup Medial EarlySign has raised $30 million in Series B funding, the Israel-based company announced Tuesday, bringing its total equity raised to $50 million. The round was led by Israel-based life science fund aMoon Partners, with participation by Li Ka-Shing's Horizon Ventures.

For daily updates, subscribe to our newsletter by clicking here.

Established in 2009, Medial EarlySign combines machine-learning technology and decades-worth of electronic health records (EHR) to create an artificial intelligence-based risk predictor. The company's algorithms can analyze dozens of EHR factors such as demographics, medication and lab results to identify "red flags" that could point to individuals at high risk of developing medical conditions like cancer and diabetes.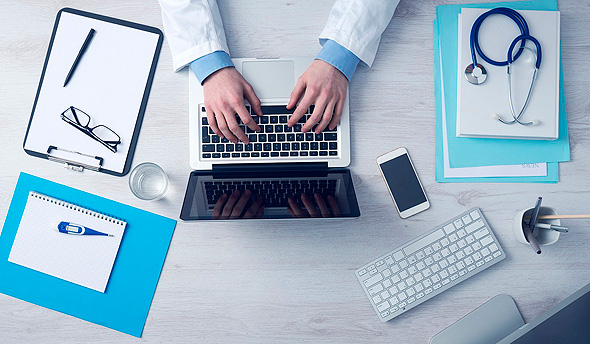 Computerized healthcare (illustration). Photo: Pixabay

In 2016, Medial EarlySign partnered with Maccabi Healthcare Services, the second largest health maintenance organization in Israel, to use its technology to develop a tool for predictive identification of colorectal cancer. Based on the anonymized electronic medical records of over 605,000 individuals, the company developed ColonFlag, a predictive model for colorectal cancer that has already received a CE Mark in the EU.

Belonging to a health maintenance organization is compulsory in Israel, and every citizen is insured for healthcare under the law. As of 2004, as part of the computerized National Health Records project, all health plans require electronic health records that are shared among community providers including primary care physicians, specialists, laboratories, and pharmacies. As a result, the country generates a unique scope of medical data that gives rise to dozens of pilots, tests, and collaborations that are carried out at any given time in the Israeli healthcare system.

In December 2017, a Calcalist report revealed one such pilot that used artificial intelligence software to decide which patients should undergo surgery, without disclosing the information to the patients themselves, leading to public and parliamentary outrage. In January, the Israeli Ministry of Health published a memo outlining health data governance regulations for Israel's healthcare system.

Meaningful healthcare data is routinely underutilized, and Medial EarlySign can help healthcare providers harness this resource, the company's co-founder and CEO Ori Geva said in a statement. The company's technology can create "actionable opportunities for early intervention, improved decision making, more effective care management, and physician and patient empowerment," he added.

"All major players in the healthcare ecosystem, including payers, providers and large employers, are realizing the impact big data and focused analytics can have on their bottom lines, as well as on the well-being of their patients," said Yair C. Schindel, managing partner at aMoon, in a statement.

Medial EarlySign is currently conducting clinical data studies with more than 20 million patients in 14 institutions around the world, according to the company, and its technology has been reviewed by institutes such as Oxford University and American care consortium Kaiser Permanente. The company intends to use the funding to expand its product offering, its global reach and its clinical research.