On Heels of Facebook Feed Change, Taboola Sketches Aggressive Expansion
The content discovery company intends to hire 400 new employees in the upcoming year
Content discovery company Taboola.com Ltd., one of the two leading companies in the domain alongside fellow Israel-based company Outbrain Inc., has announced Wednesday that it predicts over $1 billion in revenues for 2018. The company also said it intends to increase its employee count in the upcoming year by around 45%.

For daily updates, subscribe to our newsletter by clicking here.

Founded in Tel Aviv in 2007, New York-headquartered Taboola has raised $160 million in equity funding to date, $117 million of that sum in a 2015 Series E round from investors including Baidu and Yahoo! Japan.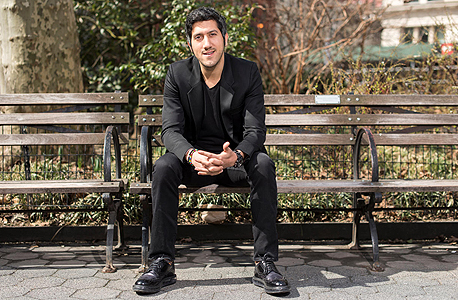 Taboola CEO and founder Adam Singolda. Photo: David Pexton

Taboola's announcement comes at a time when more and more publishers are beginning to feel the strain of Facebook's recent news feed changes. In January, Facebook announced it will prioritize posts from family and friends while at the same time decreasing the visibility of branded and publisher content. In an interview given at the time to the New York Times, founder and CEO Mark Zuckerberg said Facebook wants to reduce "passive content," or posts that tend to cause users stress.

Later in January, Facebook also updated its branded content policy, stating page owners—including celebrities—cannot make an "exchange of value" for posting branded content they did not have a part in creating, or are not featured in.

The smaller publishers are feeling the heat first. LittleThings, a digital media company geared towards women, announced its closure in late February, placing the blame on Facebook's recent changes. The company reached its audience mainly through Facebook since its establishment in 2014. Another casualty is Ontario-based social website Diply, which informed multiple page owners it worked with that it would stop sending them contact, according to a February report by online digital magazine Digiday.

In a January interview with Calcalist, Taboola CEO and founder Adam Singolda played down the possible effect the change in Facebook's feed may have on publishers' bottom line. While the number of users reaching publishers websites through Facebook may fall, he said, users coming through social platforms to publishers websites are usually less engaged and generate fewer dollars for the publishers.

In Tuesday's announcement, Taboola stated that a recent report by Virginia-based analytics company comScore showed that in December 2017, Taboola reached 43% of the world's unique desktop users in terms of digital advertising. Google sites and Microsoft sites were in first and second place with 63.2% and 49.9%, respectively, while Facebook was ranked fourth with 39.2%.

Taboola states its audience reach has increased substantially in 2017. The company reported a 17% year over year growth in the U.S. that saw the company reach 88.8% of desktop users in December, and a 45% year over year growth in the U.K. Taboola credits much of this growth to the launch of a new news feed product in May 2017 and its successful adoption by brands.

The company intends to support further expansion by increasing its employee count to 1,300, including 100 new engineers, and new hires for its content review team, according to Taboola's announcement.

Taboola was recently in hot water when its widget was used via a third-party distributor to service ads for Infowars, an American conspiracy theory website that made headlines in February after alleging that high school student David Hogg, a survivor of the Florida school shooting, was an actor. Taboola said the oversight was corrected within hours of being contacted by a reporter from Digiday.

"Every brand has a story that needs to be discovered. At the same time, quality journalism needs to find its way to new loyal audiences and thrive in an era where battling for user attention is more challenging than ever," said Taboola CEO and founder Adam Singolda in a statement Tuesday.