Mind the Tech NYC
There's No Multinational Today That Isn't Involved in The Israeli Tech Scene
Israel is a technological powerhouse but further improvements are needed to keep its momentum, said David Brodet, Chairman of Bank Leumi, at Calcalist's Mind the Tech conference in New York
There's no multinational company today that can afford to disregard Israeli technology, said on Tuesday David Brodet, Chairman of Israel-based Bank Leumi. Mr. Brodet spoke at Calcalist's Mind the Tech conference in New York. The conference is held in collaboration with Bank Leumi and the Israeli Ministry of Jerusalem and Heritage.

For daily updates, subscribe to our newsletter by clicking here.

Held for the second year in New York, a city with a flourishing startup ecosystem that is beginning to rival that of Silicon Valley, the conference features industry and government leaders and many representatives from Israel's tech sector.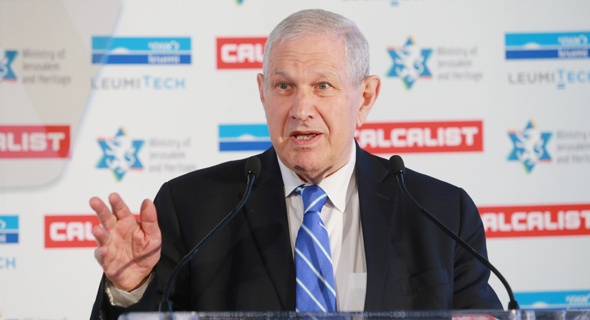 David Brodet, Chairman of Israel-based Bank Leumi, at Calcalist's Mind the Tech conference in New York. Photo: Orel Cohen

Mr. Brodet, though not a tech entrepreneur per se, has long been part of the local industry. In the 1980s, he served as the chief economist and the deputy director of the Israeli Ministry of Economy, a role that at the time included the governance of Israel's developing tech industry. Israel's chief scientist position also became a major power at the time, and its grants gave rise to hundreds of successful startup companies.




In the 1990s, Mr. Brodet served as the director general of the Israeli Ministry of Finance, and as its budget director. In those roles he was part of establishing Yozma, a ministry-backed program that attracted many international venture capital firms to Israel, including the Van Leer group and Advant. In many ways, Yozma laid the framework for Israel's existing venture capital ecosystem.

"Today Israel is positioned as a technological powerhouse," Mr. Brodet said Tuesday. "The Israeli tech share of Israel's GDP is around 17%—higher than Israel's traditional industry. Global giants from any sector cannot afford not to be involved in Israeli tech—by opening research and development or by investing in promising startups." This is apparent in the amount of direct foreign investments, which increase every year, he added, and in the number of Israel-based companies acquired.

"In spite of this great success, we must make further improvements to continue with this momentum in years to come," Mr. Brodet continued. Further, he added, Israel suffers "from a shortage of engineers and skilled labor, and we must reinforce the industry with a steady supply of engineers. We must spare no effort to increase the participation of women in the workforce." Arabs with Israeli citizenship and ultra-Orthodox Jews are also populations whose participation should be encouraged, he added.

To face the current situation in the industry, Mr. Brodet said, Bank Leumi established Leumitech, its technology banking arm, four years ago. Today, he added, Leumitech engages with over 60% of Israel-based technology companies, and collaborates with many of the world's leading technology centers.