Mind the Tech NYC
Joe Lieberman Calls for Government Mandates on Private Sector Cybersecurity
Former Connecticut Senator Joe Lieberman spoke at Calcalist's Mind the Tech conference, held in New York this week
Sooner or later, the government will need to impose information security regulations on the private sector, said former Connecticut senator Joe Lieberman Tuesday, speaking on a panel at Calcalist's Mind the Tech conference in New York. Hosting the panel was Nimrod Kozlovski, a partner at Jerusalem Venture Partners (JVP) and Israel-based law firm HFN.

For daily updates, subscribe to our newsletter by clicking here.

Mr. Lieberman was a Democratic senator from Connecticut in the years 1989-2013, and the party's nominee for vice president in the 2000 elections. He chaired the Senate Committee on Homeland Security. Following his retirement, he joined New York-based law firm Kasowitz, Benson & Torres, and was briefly in the running for FBI director after James Comey was dismissed from the position.




Technology has bettered human life, but it brings its own threats due to human nature, said Mr. Lieberman, adding that in his last five years as a senator he spent a lot of time dealing with cybersecurity-related issues.

"I reached the conclusion that, at least from the U.S. point of view, we're much more capable offensively in terms of cyber attack than in terms of cyber defense," he explained. "The private sector didn't want to deal with the vulnerabilities."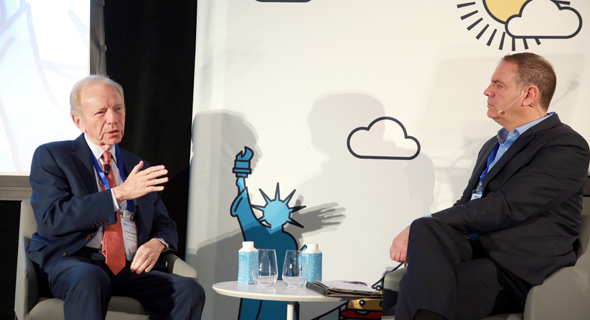 Joe Lieberman and Nimrod Kozlovski. Photo: Orel Cohen

"While the chief information officers got the problem—and the problem was that there were potentially enormous mis-liabilities (sic) for the companies, perhaps company-ending liabilities if they were not protected by cybersecurity—but the CEO didn't get that," he added. "The CEO was thinking about the next quarterly report and not willing to spend money."

Since the private sector does not prioritize security and the public sector is no longer as influential as it once was, the hope is that the market can generate incentives for companies to develop security solutions, such as IoT systems that have cybersecurity built into them, Mr. Lieberman said.

But it's not a process that will happen in American companies without government involvement, he added.