Bag Screening Machine Company Qylur Looking to Raise $50 Million in Toronto IPO
The Palo Alto, California-headquartered company filed a preliminary prospectus with TSX Venture two weeks ago
Palo Alto, California-headquartered Qylur Intelligent Systems Inc. is looking to raise $50 million according to a company valuation of $200 million, according to one person familiar with the matter who spoke with Calcalist on condition of anonymity. The company filed a preliminary prospectus with Canadian stock exchange TSX Venture on March 9.

For daily updates, subscribe to our newsletter by clicking here.

The underwriter for the deal is Blake, Cassels & Graydon LLP, and Ernst & Young LLP is the auditor.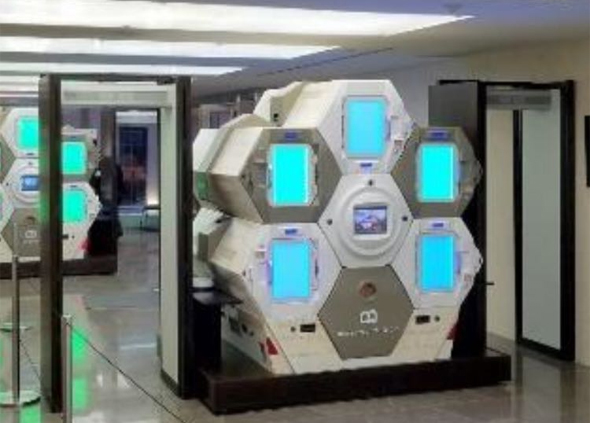 Qylur's Qylatron. Photo: Qylur Intelligent Systems Inc.

Founded in 2005 by CEO and major shareholder Lisa Dolev, Qylur develops Qylatron, a honeycomb-shaped bag scanner for security checks at public venues. The machine has been operational in Disneyland Paris for a while, and has also been employed during the 2016 Olympics in Rio. In 2017 it received the SAFETY Act Designation for providers of anti-terrorism technologies from the U.S. Department of Homeland Security.

Launched in 2013, Qylatron relies on X-rays, chemical sensors, and machine AI and can scan 600 bags an hour, according to company statements. Capable of detecting threats such as explosives, chemicals and radioactive materials, the system is meant for large, crowded facilities such as amusement parks, sports stadiums and airports.

Israel-based companies ZIV-AV Engineering Ltd. and ISDS Ltd. (International Security and Defense Systems) took part in the development of Qylatron, which is manufactured in Israel. Among the company's investors are Amnon Shashua, CEO and co-founder of Mobileye, the automotive chipmaker bought by Intel in 2017 for $15.3 billion, and Kobi Richter, the founder of Israel-based stent maker Medinol, the person familiar with the matter said.

Ms. Dolev, who holds a Ph.D. in biomedical engineering from Tel Aviv University, previously served as head of aeromedical research and development in the Israeli air force. In upcoming weeks she will hold a round of meetings with private and institutional investors in Israel, the person said, ahead of the planned IPO. In Israel, the funding round is led by investment firm Barak capital Ltd.

Qylur previously raised around $33.5 million in equity funding.