Israeli Cannabis Company to Set Up Foreign Farms, Expects First Harvest in 2019
After a reform to allow medical cannabis export from Israel has stalled, Together Pharma announced plans to set up cannabis farming operations outside of the country Sunday
Together Pharma, a newly-formed Israel-based company that focuses on growing, exporting and distributing medical cannabis, has signed a memorandum of understanding with an unnamed foreign company to farm cannabis outside of Israel, the company announced Sunday in a filing to the Tel Aviv Stock Exchange.

For daily updates, subscribe to our newsletter by clicking here.

The partnership will see both companies collaborate on a greenhouse compound to be established on a lot of around 25 acres, with a capacity for growing up to 60 tonnes cannabis a year. Together Pharma CEO Nissim Bracha did not specify the location of this farm but said it is located in a country with weather conditions that are beneficial to cannabis farming in an interview with Calcalist.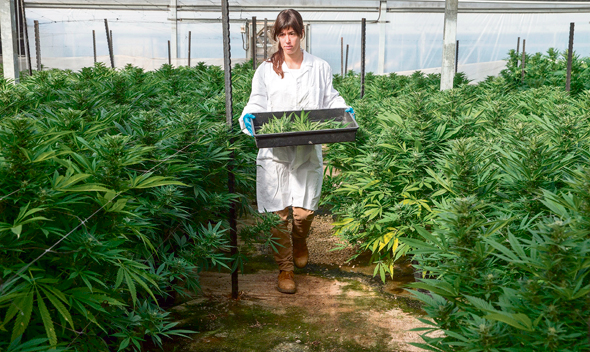 Cannabis greenhouse. Photo: Breath of Life

Together Pharma will initially invest $4 million into the new greenhouses, and own 51%, according to the filing. The company expects the first harvest in the first quarter of 2019, and predicts sales of $75 million in the first year, with potential for $300 million in revenues annually.

Together Pharma is the result of a recent merger between Tel Aviv-listed shelf company Together Startup Network Ltd. and Globus Pharma, a two-year-old Israel-based company that has received the four types of permits required for growing and marketing medical marijuana in Israel.

Earlier this month, the two companies announced a partnership with Yamko Yad Paz Industries Ltd., a company specializing in large-scale agricultural infrastructure, to enact a series of cannabis greenhouses in Israel with a potential output of 20 tonnes of produce a year. The partnership may need to overcome regulatory hurdles, as a reform to enable medical marijuana export from Israel that was set in motion in 2016 has ground to a halt over the past few months due to disagreements among government officials.

When finalized, Sunday's deal will enable Together Pharma to distribute its produce without depending on the Israeli government, according to Mr. Bracha. "Perhaps if we had received an export permit two months ago, we wouldn't have started this pursuit," he said, "but now we are not dependent on the whims and interests of factors in Israel and in its government."

The company is also examining the possibility of establishing a farm in Germany, and will send representatives to the country next week to explore the possibility, even though the country has a less appropriate climate that may lead to higher growth expenses, Mr. Bracha said.

Together Pharma is currently up 22% on the Tel Aviv Stock Exchange.