Orbs, a Startup Offering Blockchain as a Service, Has Raised Around $106 Million, Executive Says
The Israel-based startup offers blockchain infrastructure built for specific needs of customers like Kik Messenger
Orbs Ltd., a 40-person startup based in Tel Aviv, wants to build customized blockchain infrastructure for companies, similar to how Amazon Web Services offers cloud-based computing.

For daily updates, subscribe to our newsletter by clicking here.

To that end, Orbs has raised roughly $106 million from unnamed customers and strategic partners, the company's co-founder, Tal Kol, told Calcalist on Monday. The funding brings Orbs 80% of the way toward a goal of raising $133 million. The startup was founded last year.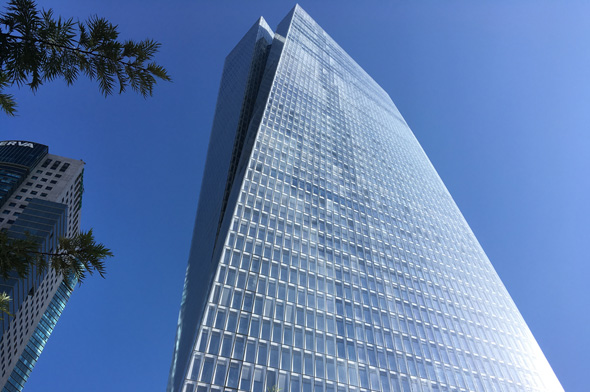 Orbs' offices Azrieli Sarona Tower in Tel Aviv. Photo: PR

In the past two years, many entrepreneurs and established companies have announced plans to develop services based on blockchain's encrypted, public ledger. The blockchain applications being proposed range from copyright protection to micropayments between autonomous vehicles.

Many of the developers say their applications will be powered by Ethereum, which is one of the more popular blockchain networks. Some applications require the creation from scratch of a new public ledger.

But not everyone with dreams of crypto has the technical know-how to carry them out. That's where Orbs comes in.

"We build blockchain according to what the clients needs," said Billy Attar, Orbs's vice president of marketing.

The startups' largest client is Kik, a Canada-based messaging app developer, which has about 15 million monthly active users, Mr. Attar said.

In 2017, Orbs helped Kik with an initial coin offering, which netted Kik $98 million. Kik's kin tokens were meant to exist on the Ethereum network, but Ethereum soon proved to be too slow and clumsy, Mr. Attar said. The network was not designed for large scale consumer applications.

"Ethereum is not good enough for a serious business," he said.

In January, Kik CEO Ted Livingston wrote a blog post addressing rumors that Kik could be migrating its Kin token onto a different blockchain network called Stellar.

"While the possibility of moving from Ethereum to Stellar is exciting, Kin could also quickly hit the limits of Stellar, too," Mr. Livingston wrote.

Attar said Orbs is in the process of developing a tailor-made blockchain network for Kik's cryptocurrency.

"We go after companies that already have a running business," he said.