Talent Crunch is Make or Break for Israeli Tech, Says Magic Leap Executive
Tamir Berliner, the general manager of the Tel Aviv office of Florida-headquartered augmented reality company Magic Leap, believes Israel must find ways to bring its Arab citizens and Ultra-Orthodox Jews into the industry
The current talent crunch is a "make or break" moment for the Israeli tech industry, says the general manager of the Tel Aviv office of augmented reality startup Magic Leap Inc., Tamir Berliner. Mr. Berliner said he is worried that Israel will fail in making the best of its most precious resource—its local talent.

For daily updates, subscribe to our newsletter by clicking here.

The Israeli industry must look beyond the obvious candidates such as veterans of military tech units or graduates of the Technion – Israel Institute of Technology, Mr. Berliner said in an interview with the "30 Minutes or Less" podcast hosted by Microsoft ScaleUp TLV, which aired on Calcalist, Sunday.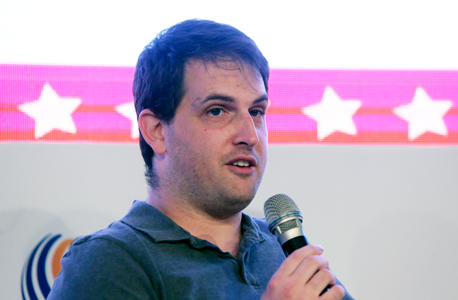 Tamir Berliner. Photo: Zvika Tishler

Multinational companies are setting up offices in Israel and are aggressively pursuing Israeli engineers, Mr. Berliner said. "In Silicon Valley, they ran out of manpower, there aren't enough people coming into the industry to fill the open positions there," he added.

Israel is beginning to experience the same problems, and the question is whether it will find ways to utilize the full scope of potential local talent. Very large portions of the population—Arabs with an Israeli citizenship, Ultra-Orthodox Jews (Haredi) and other minority groups—are not a part of this industry, and they should be, Mr. Berliner said. "This is a national crisis and it has to be a top priority," he added.

Founded in 2011 and headquartered in Florida, Magic Leap develops an augmented reality headset that superimposes three-dimensional computer-generated imagery over real-world objects. The device is scheduled for release in 2018. On Monday, Magic Leap launched a preview program for developers looking to create software for the yet-unreleased device.

Prior to joining Magic Leap, Mr. Berliner founded Tel Aviv-based 3D sensing company PrimeSense Ltd., that developed the technology used in Microsoft's Kinect. PrimeSense was acquired by Apple in 2013 for over $340 million.

The 30 Minutes or Less podcast, which launched in 2017, is hosted by Navot Volk, the managing director of Microsoft ScaleUp TLV, and tech entrepreneur Aviv Frenkel. The two interview tech founders, investors, and other key members of the Israeli tech ecosystem.