Playtika to Hire 100 Employees, Lease Space at Israel's Tallest Office Tower
The online gaming company will lease a floor at the Azrieli Sarona office tower in Tel Aviv, which also houses Amazon, Facebook and Dropbox
Israel-based online gaming company Playtika Ltd. is expanding its operations in Israel and looking to recruit 100 new marketing, development and analytics employees, the company announced Sunday.

For daily updates, subscribe to our newsletter by clicking here .

Established in 2010, Playtika develops free-to-play virtual casino applications. Its titles, like Slotomania, are among the most popular on Apple's App Store, Google Play and Facebook. The company employs around 1,800 people in 15 global offices.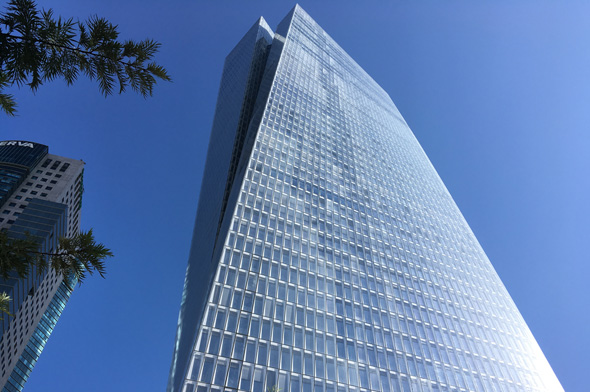 Azrieli Sarona. Photograph: Yair Sagi

In 2011, Playtika was acquired by Caesars Interactive Entertainment. In 2016, the company was sold to a Chinese consortium for $4.4 billion to pay off Caesars' debt load. Recently the Wall Street Journal reported that Chinese company Giant Interactive Inc. is interested in buying Playtika from the consortium but ran into regulatory difficulties in the country.

Last week the company announced a $400 million fund for investments in digital entertainment and consumer internet startups.

In October, Playtika announced it acquired Jelly Button Ltd., a Tel Aviv-based gaming studio that created a casual mobile game called "Pirate Kings." The announcement marked Palytika's fifth acquisition of an Israeli company, and its tenth acquisition to date.

As part of the new expansion, Playtika has leased the 51st floor in the Azrieli Sarona office tower in central Tel Aviv, currently the country's highest building. The space, which spans 25,800 square feet (2,400 square meters) will house both the company's new venture arm and Jelly Button's employees.

Playtika's need of new employees stems from the company's significant growth in the past year, the company's chief marketing officer Nir Korczak said in a statement.

Set to open officially in 2018, the Azrieli Sarona Tower is already in use, and 97% of its space has already been leased to some of the largest tech companies operating in Israel. Facebook has leased seven floors in the tower for around $4.7 million a year, and Amazon has 10 floors in a five-year lease contract for $10.5 million a year, to house its new Alexa research and development center in the country.

Other tenants include Dropbox, Magic Leap Inc. and IronSource Ltd.