CryptoCelebrities Game's Website Shuts Down, Token Holders Stuck with "Hot Potato"
Within weeks after the was launched, people had spent millions of dollars in ether on Donald Trump, Rihanna, Elon Musk and dozens of other celebrity tokens that are now virtually worthless
In January, an online game called CryptoCelebrities was born. As the name suggests, it let you buy unique digital tokens of celebrities. By early March, the game had been taken down, and its developers were receiving threats.

For daily updates, subscribe to our newsletter by clicking here.

Right off the bat, the game roped in crypto enthusiasts and others. In a matter of weeks, they managed to spend 31,000 ether coins, which today are worth $18 million, on Donald Trump, Rihanna, Elon Musk and dozens of other celebrity tokens, according to one of the game's developers. From each transaction, the developers took a fee of 6%, some of which was reinvested into the game.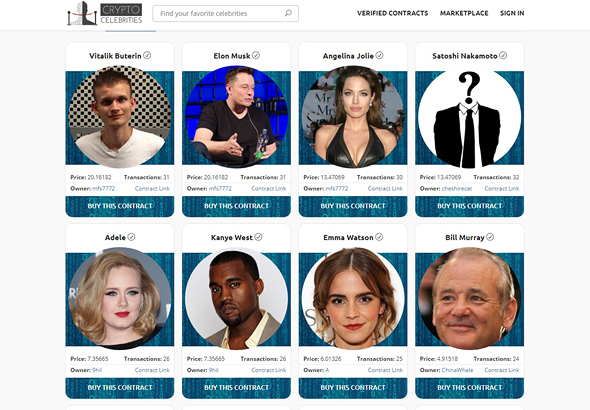 A screenshot from CryptoCelebrities before it was taken down

The starting price for each token was minuscule. But after a sale, the price of a token went up automatically by a certain factor, and everyone else had the option of buying it. Eventually, some tokens reached a price that was upward of $100,000. Like a game of hot potato, the goal was to buy tokens and get rid of them before the price gets too high.

The game's team of eight developers guarded their anonymity and communicated with the CrytpoCelebrities community through an account on Discord, a forum app. The official owner of the game is CryptoCelebrities Ltd, a corporate entity being registered in Hong Kong, according to one of the developer.

After the initial token buying frenzy, growth was beginning to level off. The developers tweaked the game in an attempt to generate more interest. They invited celebrities to endorse their celebrity tokens. Transactions tapered off, threatening to make the tokens very hard to sell.

"When all of this didn't generate enough movement, the community suggested that we pause the (website)," one of the developers wrote to Calcalist in an email. Calcalist accepted the person's request to remain anonymous after being provided with screenshots of death threats he had received.

The developers announced ahead of time that the game would be taken down and promised to provide compensation to token holders in new crypto games that are under development.

Individuals holding tokens can try to trade them on independent token exchanges.

Unsurprisingly, not everyone was satisfied when they were left with a totally unique yet virtually worthless celebrity crypto token.

"As with other crypto related games and ventures, some people spend more than they can afford and act irresponsibly," the developer wrote to Calcalist. "We stated very clearly in the terms of use that there is no guarantee your token will be bought from you, and the tokens should be treated like any other collectible. For example: Expensive baseball cards, works of arts or stamps."

The threats began pouring in.

"My employers, I suspect, are serious criminals who, as I told you, place over 500 ether into your game," reads one threatening email reviewed by Calcalist. "There was never a plan to harm you. Unfortunately, for everyone really, your game ended so quickly that they got stuck. Either pay or pray."

"I didn't report because I don't believe they'll do anything," the game developer wrote to Calcalist. "If I'll feel I'm in immediate danger I'll take the steps to protect me and those around me."