IDB Bids for Israeli Satellite Operator Spacecom
Spacecom is a subsidiary of Eurocom Group, an Israeli holding company that is $420 million in debt to institutional creditors
Israel-based IDB Development Corporation Ltd. is offering to buy Israeli satellite operator Space Communication Ltd., also known as Spacecom, according to a Monday night filing with the Tel Aviv Stock Exchange. Spacecom is the operator of the Israeli AMOS communication satellites.

For daily updates, subscribe to our newsletter by clicking here.

Following the announcement, Spacecom's stock rose 14.28% on the Tel Aviv Stock Exchange Tuesday.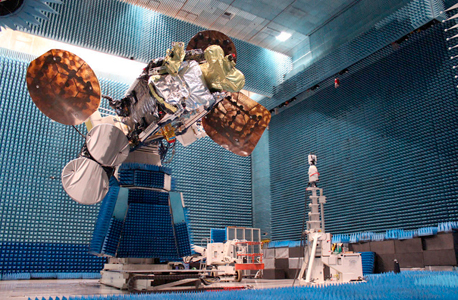 AMOS 6. Photo: PR
Spacecom is a subsidiary of Eurocom Group, the controlling stakeholder of Israel's largest telecommunication provider, Bezeq. Together with its subsidiaries, Eurocom and its co-owner Shaul Elovitch owe a debt of around $420 million to institutional creditors, including Israel's three largest banks.
Mr. Elovitch has been negotiating Eurocom's sale for the past few months, but a deal with real estate developer and businessman Naty Saidoff fell through when Bezeq shareholder action cast doubt on the latter's ability to control Bezeq's board following the acquisition. Mr. Saidoff recently made an amended offer, lowering the bid price to a third of the original offer.
IDB has previously expressed interested in acquiring Eurocom. Now the company, through its subsidiary Discount Investment Corporation, is making an offer just for Spacecom. Discount is offering $45.75 million (NIS 160 million) for a 54.7% undiluted stake in Spacecom, and an equity infusion of as much as $11.45 million (NIS 40 million).
Spacecom presents IDB with a "wonderful opportunity", IDB chairman and controlling shareholder Eduardo Elsztain said at the company's annual shareholder meeting, held in Tel Aviv Tuesday. The acquisition has its risks but the synergy between the companies can bring about good things and help develop the company, he added.
Spacecom's AMOS-6 satellite was destroyed in a 2016 launch pre-checks explosion. As a result, Spacecom lost a $95 million leasing deal with Facebook, and a planned $285 million acquisition of the company by Shanghai-listed telecommunication technologies supplier Beijing Xinwei Technology Group Ltd. fell through. The company was also forced to lease a replacement satellite at $22 million a year.
On Monday, Spacecom announced it has contracted a company to build AMOS-8, intended to replace AMOS-6. The company does not have the money to finance the $112 million deal, and stated it intends to raise funding from the public, from institutional investors, and from banks.