D.E. Shaw Group Invests in Israel-Based SaaS Insurtech Startup Atidot
The investment was part of a $5 million Series A funding round led by venture capital firm Vertex Ventures Israel
New York-headquartered hedge fund D. E. Shaw & Co. L.P. (The D.E. Shaw Group) invested in Israel-based SaaS insurtech startup Atidot Ltd., the company announced Wednesday.
For daily updates, subscribe to our newsletter by clicking here.
The investment was part of a $5 million Series A funding round led by venture capital firm Vertex Ventures Israel. Additional participants include Poalim Capital Markets, the investment arm of Israel's Bank Hapoalim, and Israel-based venture capital firm Moneta Seeds Management Company Ltd.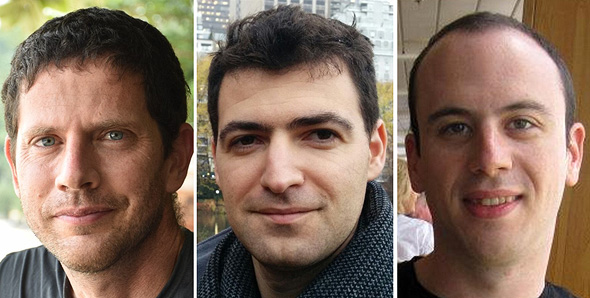 Atidot co-founders (from left): Assaf Mizan, Dror Katzav and Barak Bercovitz. Photo: PR
Founded in 2016 by veterans of Israeli military intelligence units and a former chief actuary at Israel's Ministry of Finance, Atidot has raised a total of $6 million to date. Based in Ramat Gan, a Tel Aviv suburb, Atidot's SaaS product uses artificial intelligence, machine learning, and predictive analytics to provide life insurers and annuity writers with business and actuary insights on customers and their anticipated behaviors.
Atidot's software allows insurance companies to merge their own data with accessible data from other sources, significantly improving their understanding of clients' needs and their ability to assess risks, Co-Founder and CEO of Atidot, Dror Katzav, said in a phone interview with Calcalist on Wednesday.
Atidot has 20 employees in Israel and five in London and the U.S. The company is planning to hire 10 additional data scientists and sales and marketing professionals in the U.S., Mr. Ktazav said.
Atidot also announced the appointment of former MetLife Inc. and Prudential Financial, Inc. executive Martin Snow as vice president and chief delivery officer.
Founded in 1988, the D.E. Shaw Group is headquartered in New York with additional offices in London, India and across the U.S. As of October, the D.E. Shaw Group had $46 billion in investment capital, according to company statements.