Samsung Partners With Audio Search Startup AudioBurst, Invests $4.6 Million
Tel Aviv-based AudioBurst's technologies will be integrated into Samsung's products, starting with Samsung's smart TVs
Samsung has invested $4.6 million as part of a partnership with AudioBurst Ltd., a Tel Aviv-based startup that develops an audio content search engine. AudioBurst announced the partnership on Wednesday. As part of the partnership, AudioBurst's technology will be integrated into Samsung's products on a global scale, starting with the company's smart TVs.

For daily updates, subscribe to our newsletter by clicking here.

Samsung made the investment through its venture arm Samsung Ventures. The investment was part of Audioburst's Series A funding round, which now totals $11.3 million. Earlier this month, Calcalist reported that Samsung has invested an undisclosed sum of several million dollars in Audioburst, citing two people familiar with the matter who spoke on condition of anonymity.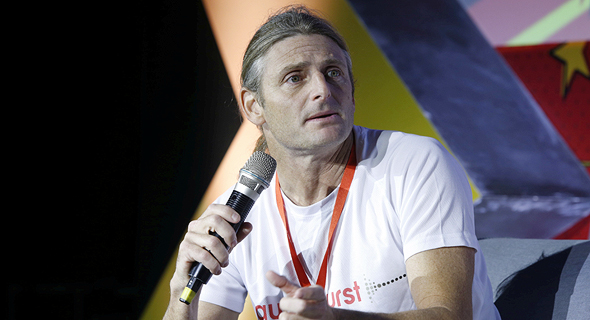 Ben Enosh, co-founder of AudioBurst. Photo: Amit Sha'al

Other investors in the round include Tokyo-listed speech recognition company Advanced Media Inc., Israeli venture capital fund specializing in cybersecurity technology, Flint Capital, and Tel Aviv-based investment firm 2B-Angels.

Audioburst's system will bring a virtual assistant feature to Samsung's smart TVs with personalized, searchable audio, Amir Hirsh, co-founder and CEO of Audioburst , said in a statement. "Today, there are more than 33 million voice-first devices in homes and more than 30% of the mobile queries are voice searches," Mr. Hirsh added.