Citi Ventures, Canaan Partners Invest in Cargo Monitoring Startup Contguard
Contguard provides information analysis and real-time data for managing cargo in transit. The company did not disclose the details of the deal
Israeli cargo monitoring startup Contguard Ltd. announced on Wednesday an investment from Citi Bank's venture capital arm Citi Ventures and Canaan Partners Israel. Contguard did not disclose the details of the deal but said the funds would enable it to accelerate product development, expand its sales, and develop its partnerships with banks and insurance companies.

For daily updates, subscribe to our newsletter by clicking here .

Founded in 2012 by Yiftach Nativ and Hanan Weisler and based in Kfar Saba, north-east of Tel Aviv, Contguard provides IoT-enabled shipment monitoring, real-time data and business intelligence to manufacturers and suppliers who ship goods globally. Contguard also provides insights about goods in transit, which companies may use to optimizes their supply chain, financing, insurance, and compliance activities.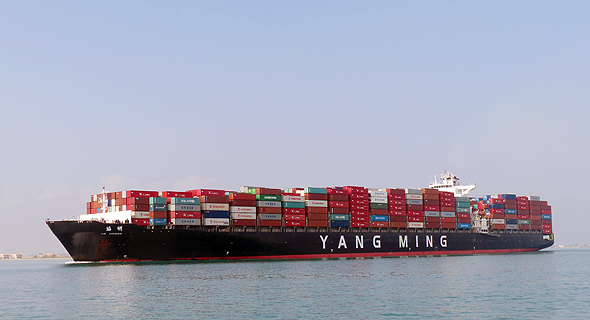 A container ship (Illustration). Photo: Gidi Shaprut

"Historically, there has been a lack of visibility and accountability in container shipping, which can lead to capital losses, theft and product spoilage," Yiftach Nativ, Contguard co-founder and CEO, said in a statement.

In December, Calcalist reported that Israel-based startup Wave Ltd., together with Spanish bank BBVA, has carried out a pilot to streamline the submission of import and export documents using blockchain technology.

Founded in 2014, Wave uses blockchain technology to replace traditional bills of lading with electronic shipping documents. While the documentation process for international trade—from initial transmission of trade documents to final verification and authorization—usually takes 7-10 business days, during the December pilot Wave was able to complete the process in 2.5 hours.

Earlier this month, Danish shipping conglomerate A.P. Moller–Maersk Group announced it was teaming up with Israel-based maritime startup accelerator The Dock Innovation Hub (theDOCK). Founded in 2016 in the northern port city of Haifa, theDOCK is a technology hub and accelerator focused solely on maritime and port-related startups.

Maersk intends to use technologies developed within the accelerator program to solve issues related to its complex supply chain, Maersk chief digital officer Ibrahim Gocken said in a statement. Maersk is interested in startups focusing on logistics, supply chains, food waste reduction, and trade, Thomas Hougaard, a venture partner at Maersk, said in a statement.