Interview
TV Broadcasting Will Survive Streaming Revolution, Disney Executive Says
Unlike Netflix and Amazon, which built a streaming service and then started producing their own content, Disney started with the content. Now the company is preparing to launch a streaming service
Disney's new streaming service, and others like it, will not kill TV broadcasting, said Joe Inzerillo, the executive vice president and chief scientific officer of Disney subsidiary BAMTech Media, in a recent interview with Calcalist. Mr. Inzerillo, who is also an independent director at Israel-based video infrastructure startup Qwilt Inc., is helming the establishment of the new service.

For daily updates, subscribe to our newsletter by clicking here.

In August 2017, Disney announced it is cutting ties with Netflix to launch a streaming service of its own. Disney is one of the leading content creators in the world, with brands such as Pixar, Marvel, and Star Wars under its wing, television networks such as ABC and ESPN, and children's channels that launched the careers of superstars such as Britney Spears, Miley Cyrus, and Justin Timberlake.
Joe Inzerillo. Photo: PR

In the past, Mr. Inzerillo explained, Disney made a channel and sold it to an operator, and that operator sold it to a customer, because to get to a customer you needed satellites or similar infrastructure. But with the internet, companies like Netflix are talking directly to the customers and can understand what they want and cater to it. "A traditional media company like Disney needs to be in that space," he said. "Any media company needs to have multiple channels to do things, and Disney has practically written the book about how to monetize content."

Disney's decision to pull its content from Netflix led to a brief dip in the streaming service's stock as investors wavered, but the stock has rallied since then.

Netflix's main focus in the past few years has been on original content, with an $8 billion investment and some 700 original shows slated for 2018, according to its chief financial officer David Wells. But Disney, who is currently in the process of acquiring 21st Century Fox in a deal that could see it become the largest content and entertainment company in history, has the ability to set up a rivaling service that aggregates some of the most popular global brands and content.

"The world is a big place," Mr. Inzerillo said. "There's an incredible amount of content out there, and more niche content than has existed before. And therefore I don't think it's an 'either or,' I think it's very much a companion. I would think that some of the folks that are Netflix customers will be very likely Disney customers, because streaming is already the mechanism they choose to consume their content. And therefore I don't think it's a Netflix-killer, I think it's just a different distribution."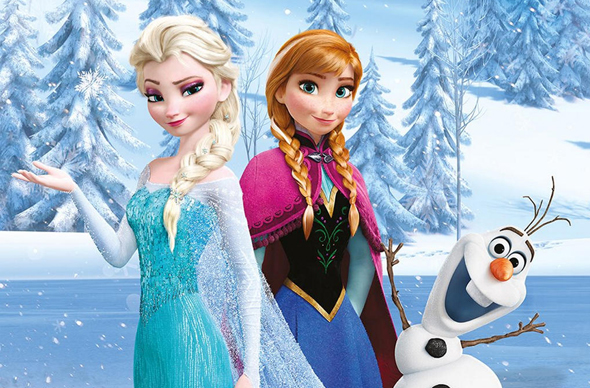 Elsa and Anna from Disney's Frozen. Photo: The Walt Disney Company

During the interview, conducted in mid-March, Mr. Inzerillo was deep in the planning of the new service, which he says will revolutionize not only the content offered but also the user experience. "There's some inherent amount of risk when launching a new service," he said, but "for us, we've launched a lot of services over the years, so we've gotten very good at it."

By "us" Mr. Inzerillo means BAMTech, created in 2015 when Major League Baseball Advance Media (MLBAM), the digital media arm of Major League Baseball, spun-off its streaming technology business as a separate company. Mr. Inzerillo got his start as a cameraman for Chicago White Sox and Chicago Bulls, before working his way up to chief technology officer. He's been with MLBAM since 2003, and took part in building its first streaming infrastructure when the company began streaming the league's games. Later the company began taking on outside clients including CBS, ESPN, Eurosport and HBO, for which BAMTech created its subscription video on demand service HBO Now.

Disney bought 33% of BAMTech in 2016, and announced its intention to acquire an additional 42% for $1.58 billion the same day it announced its new streaming offering, which will include an ESPN multi-sport streaming service that will launch in early 2018, and a Disney-branded direct-to-consumer streaming service set to launch in 2019.

"Iger, I believe heard him say this in an interview," Mr. Inzerillo explained, referring to Disney's Chairman and CEO Robert Iger, "the reason that they accelerated their purchase of us was that this was not like a speed bump. This was the new normal, this was the way it was going to be from now on."

But Disney doesn't just want to put out a streaming service, they want to raise the bar, both content-wise and features-wise. "There's a bunch of different things we've thought about we really want to go deep on," Mr. Inzerillo said. "When you have a universe like Disney has of intellectual property to choose from, it's some of the best content out there, but it's also a very direct relationship. So if I want a 3D model for the user interface, I could just call the people that made it in the movie, I don't have to remake it."

Mr. Inzerillo doesn't think streaming will wipe out TV broadcasting, though. "It's still a very important part of the ecosystem." When TV first arrived on the scene, everyone thought it would kill the radio, he explained, but radio is still around and generating revenues, though it's not as dominant in the market as before. Broadcasting will narrow down to large events, however. Events like the Superbowl attract hundreds of millions of people, he explained, and the internet has never streamed to near that amount. But the rest of the content will eventually move over to streaming, a process that already started with TiVo and ReplayTV.

"Certainly, appointment viewing for anything that's not a live sport or an award ceremony or something like that, is dead or very close to it," Mr. Inzerillo said. "There are a lot of people who are not going to watch a show at a particular time just because that's when the show debuts." But people want to consume content in different ways, and some, for both generational and financial reasons, prefer the "cable bubble," as he calls it.

Mr. Inzerillo is also an independent director at Israel-based video infrastructure startup Qwilt Inc. Established in 2010 by former employees of Cisco Systems Inc. and Juniper Networks Inc., Qwilt provides software infrastructure for online video, facilitating distribution in real time around the world.

"We are fortunate to have Joe on our board as an independent director with vast industry expertise," Qwilt CEO and Co-founder Alon Maor told Calcalist. "We have a common motivation to help the internet scale for online video. This is also of joint interest for content providers like Disney and MLB, as well as for Qwilt. Qwilt and BAMTech were among the founding members of the Streaming Video Alliance where Joe and myself got to be acquainted and we found great rapport and synergy working together. Joe has already contributed significantly to Qwilt's current success by his ingenious insights and the reputation and relationship he has in the online video eco-system."