Palo Alto Networks to Acquire Cybersecurity Startup Secdo
The Israel-based company was founded by two alumnae of Unit 8200, the Israeli military's NSA equivalent
Palo Alto Networks Inc. has entered a definitive agreement to acquire Israel-based cybersecurity startup Cyber Secdo Ltd., the companies announced Tuesday. The financial terms of the deal were not disclosed, but one person familiar with the matter, speaking with Calcalist on conditions of anonymity, said the sum of the acquisition was around $100 million.

For daily updates, subscribe to our newsletter by clicking here.

Secdo develops patented technology that combines endpoint detection and response (EDR) with security automation capabilities. Using a continuously recording sensor that is installed on a host, the company's analysis engine automatically correlates alerts from multiple sources with host forensic data to reveal the full context of alerts, allowing security teams to shorten incident response time and operate more efficiently.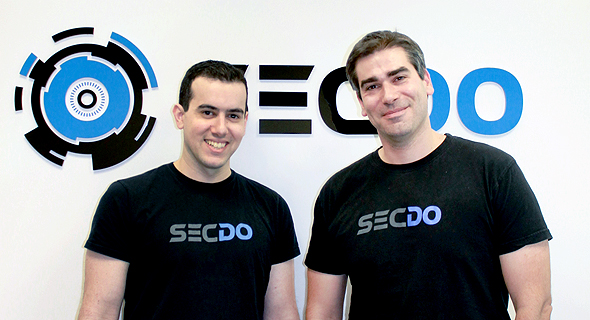 Secdo co-founders Gil Barak (left) and Shai Morag. Photo: PR

Established in 2015 by two alumnae of Unit 8200, the Israeli military's NSA equivalent, Secdo employs around 50 people in Israel and additional people in the U.S. and U.K. To date, Secdo raised over $11 million in equity funding from investors such as RDC, a joint venture of Israel-based arms developer Rafael Advanced Defense Systems Ltd. and Elron Electronic Industries Ltd. that owns a 20% stake in the company, and Marius Nacht, co-founder of information security company Check Point Software Technologies Ltd.

Secdo's employees will be integrated into Palo Alto Networks following the acquisition and its technology will be integrated with Palo Alto Networks' products, according to the announcement.

"We believe security operations teams need the most advanced and consistent approach to endpoint security," said Mark McLaughlin, chairman and CEO of Palo Alto Networks, in a statement. "With Secdo's EDR capabilities as part of our platform, we will accelerate our ability to detect and prevent successful cyber attacks across cloud, endpoint, and the network."

The acquisition is expected to close during Palo Alto Networks' fiscal third quarter, the company stated.

Israel has been the focus of several multinationals in the cyber sector in recent years. Palo Alto Networks acquired Tel Aviv-based Cyvera Ltd. in 2014 for $200 million and LightCyber last year for $105 million. In 2015, rival Check Point Software Technologies Ltd. acquired threat detection company Hyperwise and Tel Aviv-based startup Lacoon Mobile Security. Huawei acquired database security startup Hexatier for $42 million in 2016. Microsoft acquired enterprise security startup Aorato in 2014, cloud security company Adallom Inc. and data protection company Secure Islands Technologies Ltd. in 2015, and cybersecurity company Hexadite in June 2017. In November 2017, Continental AG has acquired Israel-based cybersecurity company Argus Cyber Security Ltd.