Adani Group, Elbit to Set Up Hyderabad Drone Plant
As part of the joint venture, Adani and Elbit will develop, maintain and upgrade Elbit's unmanned air vehicle systems Hermes 900 and Hermes 450
Ahmedabad, Gujarat, India-headquartered, conglomerate Adani Group has entered a joint venture with Israeli drone maker Elbit Systems Ltd. to set up a drone plant in Hyderabad in India, according to a report published on Wednesday by Indian business newspaper The Hindu Business Line. As part of the joint venture, the companies will develop, maintain and upgrade Elbit's medium-altitude, long-endurance unmanned air vehicle systems, Hermes 900 and Hermes 450 in India.

For daily updates, subscribe to our newsletter by clicking here.

The planned plant will manufacture composite aerostructure for Elbit's Hermes 900, in the city of Hyderabad in southern India, the report said. An initial investment of $15 million, may go up to $100 million depending on orders by the Indian government, according to The Hindu Business Line.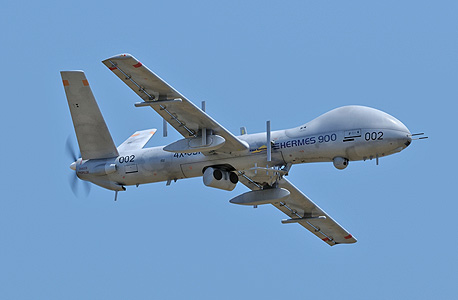 Elbit's Hermes 900. Photo: PR

Speaking at DefExpo 2018, a security systems event held in Tamil Nadu, India, Ashish Rajvanshi, head of defense and aerospace at Adani, said that the joint venture will provide dedicated support to the Indian Armed Forces, according to the report.

On Thursday, Israeli drone maker Aeronautics Defense Systems Ltd. announced in a Tel Aviv Stock Exchange filing that it has signed a memorandum of understanding with India-based Mahindra Defence Naval Systems Pvt Ltd., a defense subsidiary of Indian car manufacturer Mahindra & Mahindra Ltd. to develop and manufacture an unmanned air vehicle system for maritime applications for the Indian navy.