Israeli Company Develops Chocolate for Diabetics
A1C Foods develops foods that are low in carbs and glycemic index. Its planned lines include low-carbs ice creams and pizzas
Israeli startup A1C Foods Ltd. develops chocolate and ice cream the company says does not impact blood sugar levels. Instead of substituting real sugar with artificial sweeteners, a spokeswoman for A1C told Calcalist the company's treats are made with traditional ingredients like flour and sugar, with the addition of a patent pending "formulation" that lowers their glycemic index.

For daily updates, subscribe to our newsletter by clicking here.

The company was founded by Ran Hirsch, a tax attorney and entrepreneur whose daughter was diagnosed with diabetes, in collaboration with Mariela Glandt, the endocrinologist who treated her.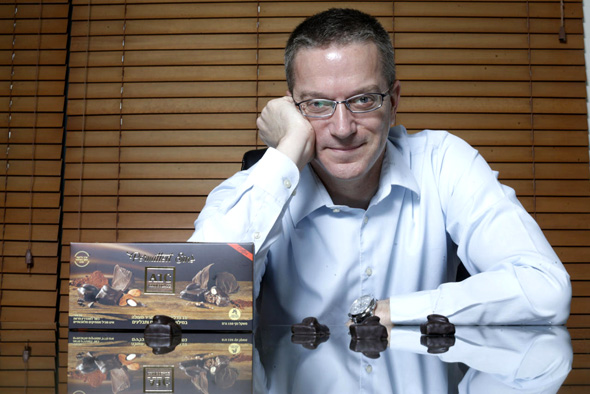 Ran Hirsch. Photo: Amit Sha'al

In an interview last week, Mr. Hirsch told Calcalist that when he first took his daughter to see Ms. Glandt, the doctor instructed her to eliminate carbs from her diet altogether, and then, to their surprise, offered her a piece of chocolate. Ms. Glandt developed the special chocolate in her home kitchen for her sweet-toothed diabetic father. Her dream, she told Mr. Hirsch, was to mass-produce the chocolate. "I immediately offered to partner up with her," Mr. Hirsch said.

The two founded A1C Foods in 2016. Based in Ramat Gan, in the greater Tel Aviv metropolitan area, A1C Foods develops proprietary formulations and technology to create foods that are low in carbs and glycemic index. "We took apart chocolate until we were able to isolate specific characteristics of specific substances, to manipulate them to decrease the Glycemic index, or the impact it has on the blood sugar levels," Mr. Hirsch explained. "It is a formula that is similar to a medication, and therefore we can patent it. We already filed preliminary requests for a patent," he said.

Mr. Hirsch said the company is in the process of raising a $2 million investment round.

Mr. Hirsch said that the company is collaborating with local chefs to develop a line of ice creams with low glycemic index, as well as a line of low-carb pizzas, pastries, and bread.