Israeli Lawmaker's Twitter Account Suspended After Tweet Saying Palestinian Girl in Custody Should Have Been Shot
Twitter suspended the account of right-wing Israeli lawmaker Bezalel Smotrich after he published a tweet saying a Palestinian 17-year old placed in custody for slapping and kicking Israeli soldiers should have been shot, "at least in her kneecap"
Bezalel Smotrich, an Israeli parliament member from the Israeli right wing Jewish Home party was suspended from Twitter for 12 hours on Monday night after tweeting that Palestinian teenage girl Ahed Tamimi, which is currently in custody in an Israeli prison, should have been shot. Eytan Fuld, a spokesman for Mr. Smotrich, confirmed the details on Monday.

For daily updates, subscribe to our newsletter by clicking here.

The tweet was posted on Sunday as a reply to former Jewish Home member of parliament Yinon Magal, who tweeted a video of Ms. Tamimi confronting Israeli soldiers in a past protest, stating he was happy she was still in custody. Mr. Smotrich replied tweeting he was actually sad to see her in jail. "In my opinion, she should have been shot, at least in her kneecap," he said adding that "this would have put her under house arrest for life."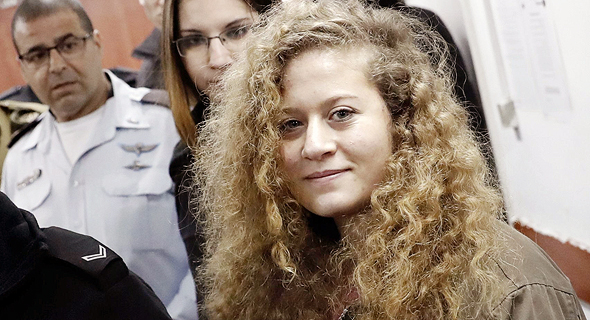 Ahed Tamimi in court. Photo: AFP

17-year old Ms. Tamimi is currently serving an eight-month sentence as part of a plea bargain, after being documented on video in December slapping and kicking two Israeli soldiers outside her family home in Nabi Salih, a village in the West Bank. Under the terms of the deal, Ms. Tamimi admitted to four counts of assault including the videotaped incident, and will also pay a $1,400 fine (NIS 5,000).

On Monday, Mr. Magal tweeted a screengrab of an email received by Mr. Smotrich in which Twitter informed him of the temporary suspension, stating that he has violated the social network's community standards, which prohibit "offensive behavior."

Known for his provocative actions and tweets, Mr. Smotrich was able to stir controversy repeatedly in the past. In 2006, he organized an anti-LGBTQ march in which he paraded beasts and dogs in protest of the Jerusalem pride parade. In 2016, he supported segregation between Arabs and Jews in maternity wards. "It is only natural that my wife would not want to lie down beside someone who just had a baby who might want to murder her own baby in twenty years," Mr. Smotrich tweeted at the time.