The Goal: Printing the Perfect Burger from Cellulose
A new food printer adds extra punch by using infrared light to simultaneously cook the food as it prints
Israeli food tech company Chef-it is about 18-24 months away from disrupting the fast food burger industry, according to Oded Shoseyov, Chef-it's co-founder. The startup's secret weapon: cellulose.
For daily updates, subscribe to our newsletter by clicking here.
Chef-it is developing a machine that can instantly "print" a juicy burger from a cartridge containing plant-based proteins, fats, and flavor components and the aforementioned cellulose, a common fiber that can be manipulated into a variety of textures, including that of beef muscle and fat. Chef-it's technology uses infrared light to simultaneously cook the food as it prints.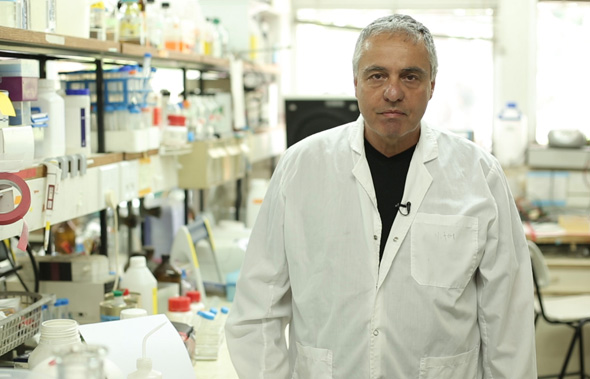 Oded Shoseyov. Photo: Tal Azoulay
According to Mr. Shoseyov, a professor of plant molecular biology, protein engineering and nano-biotechnology at The Hebrew University in Jerusalem, Chef-it can imitate the flavor effect of different cooking styles, such as grilling, baking, and frying.
A prototype of this machine, located at the Hebrew University's Faculty of Agriculture, Food and Environment in Rehovot, in central Israel, currently takes 10 minutes to print a single burger, Mr. Shoseyov told Calcalist in an interview Tuesday. Chef-it's team is hard at work bringing the printing time down to three minutes, he added.
The company's first target markets include coworking spaces, offices, and food trucks, Mr. Shoseyov said. The company successfully printed its first burger six months ago and is expecting to hit the market within two years.
A fast and convincing alternative to meat, Chef-It is setting out to deliver products that are environmentally-friendly and potentially healthier than traditional processed foods. Cellulose, Mr. Shoseyov, has a zero glycemic and caloric value.
Along with Scientific co-founder Ido Braslavski, Mr. Shoseyov began the research behind Chef-It's technology in 2013. In 2016, the company received a $282,000 (NIS 1 million) grant from Israel's government innovation investment arm. Currently employing a team of eight, the company is in the process of raising a $2 million funding round, which Mr. Shoseyov said is expected to complete within two months.
The global meat industry is ripe for disruption, being one of the world's biggest polluters, generating as much greenhouse gas emissions as all of the world's cars, trucks, trains, ships, and airplanes combined, and using 30% of all land and over 25% of all freshwater on Earth, Mr. Shoseyov said Monday speaking at a Food and Tech conference. The conference was hosted by Calcalist, and by Israel's Bank Leumi at Labs TLV, a co-working and events space in central Tel Aviv.
By using cellulose as a malleable binder, Chef-It could potentially print every type of food known to men, and even invent new foods, Mr. Shoseyov said.
As a first target, the company set out to print the perfect its burger. By utilizing adjustable infrared cooking levels the company hopes it can get it just right.
"We are a few months away from delivering a burger that is indistinguishable from the real thing," Mr. Shoseyov said.