Israeli Defense Contractors Join Startup Innovation Program
Rafael and ELTA have joined an innovation program aiming to connect established companies and national security agencies with Israeli startups developing defense technologies
Israeli defense contractors Rafael Advanced Defense Systems Ltd., and ELTA Systems Ltd., a subsidiary of Israel Aerospace Industries Ltd., have joined an innovation program aiming to connect established companies and national security agencies with local Israeli startups.
For daily updates, subscribe to our newsletter by clicking here.
In recent years, Israeli defense companies, Israel's army, and the country's intelligence agencies have deepened their ties with local startups. Between 2012 and 2014, the technology research and development arm of the Israeli Ministry of Defense funded over thirty development projects in Israeli startups, Calcalist reported in March. In 2014, Israeli defense contractor Elbit Systems Ltd. launched a startup incubator called Incubit Technology Ventures in the southern Israeli town of Be'er Sheva. In June, the Israeli Prime Minister's Office announced that a Mossad-run venture capital fund called Libertad was established.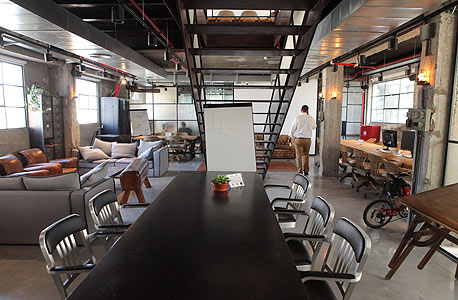 A SOSA Tel Aviv coworking space. Photo: Amit Sha'al

Rafael and ELTA joined HLSTech, an innovation program launched by Tel Aviv-headquartered startup network SOSA. The program was created in partnership with SecTech, a security venture for entrepreneurs. It will offer business development opportunities and possibly initial funding to participant startups, Arik Karten, a co-founder of SecTec, said in a statement.

Traditional venture funds avoid investments in defense, creating a financing problem for young startups in the domain, said Duddy Rokach, a co-founder of SecTech.

"In the security field, the extensive community that we have built and continue to develop, is intended to produce opportunities for proof of concept for new products, as well as integrating innovative technological tools that have been used in other industries - within this industry," said SOSA CEO Uzi Scheffer in a statement.

Established in 2014, SOSA's network includes around 8,500 start-ups, as well as investors, venture-capital funds, and international corporations. Its partners include Italian energy company Enel, Jefferies LLC, HP Inc. and ASX. The network's dedicated segments include fintech, insurance tech, and construction.