Israeli Defense Contractor Elbit Opens Berlin Office
Elbit said its Berlin office will serve the company as it expands activity in Germany
Israeli defense contractor Elbit Systems Ltd. announced on Monday the opening of a Berlin office, which the company said is part of an expansion of its activities in the German market.
For daily updates, subscribe to our newsletter by clicking here.
Elbit's Berlin office will serve as a technological, industrial, and commercial base in the country, the company said.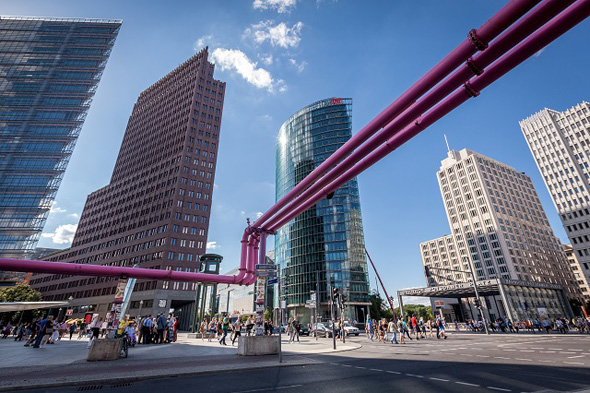 Berlin. Photo: Nimrod Arluk
Established in 1966 and headquartered in Haifa, a city in the north of Israel, Nasdaq-listed Elbit and its subsidiaries operate in a variety of military-oriented and technological domains, including communications, aerospace, land and naval systems, surveillance and reconnaissance. Elbit employs around 12,500 people worldwide, 10,000 of which in Israel.
Elbit's activities in Germany launched with the 2004 acquisition of defense manufacturer TELEFUNKEN Radio Communication Systems GmbH & Co. KG, which now operates as a wholly-owned subsidiary of Elbit. Elbit supplies a variety of tactical radio systems, advanced electro-optic systems, and directional infrared countermeasure systems for the German defense forces. In a statement, the company said its German operations would focus on broadening its portfolio and enhancing local production.
"Germany is a key market and is significant to Elbit Systems' continuous growth and growing presence in Europe," Ran Kril, executive vice president for International Marketing & Business Development at Elbit, said in a statement. "We intend to leverage our extensive experience in providing robust, precise, networked solutions to leading defense forces in order to further contribute to the German defense forces and to the German economy."
Last week, Indian business newspaper The Hindu Business Line reported that Elbit has entered a joint venture with Indian conglomerate Adani Group to set up a drone plant in Hyderabad, India. An initial investment of $15 million may go up to $100 million depending on orders by the Indian government, The Hindu Business Line reported.
In March, the Israeli Ministry of Finance announced that Elbit won a bid to buy Israeli state-owned arms manufacturer IMI (Israeli Military Industries) Systems Ltd for $523 million (NIS 1.8 billion). IMI develops and manufactures weapon systems for land, air, and naval combat.
The purchase of IMI is expected to strengthen Elbit's position against fellow Israeli defense contractors Rafael Advanced Defense Systems Ltd. and Israel Aerospace Industries Ltd.