Quarterly Venture Capital Investments in Israeli Startups Up 43% Year-over-Year
Israeli tech companies raised $1.52 billion in 181 deals during the first quarter of 2018, according to a new report
Quarterly venture capital investments in Israeli-linked startups were up 43% year-over-year in the first quarter of 2018, according to a new report. Israeli tech companies raised $1.52 billion in 181 deals during the first quarter of the year, compared to $1.06 billion and 155 deals in the first quarter of 2017, according to a report by Israel-based market research firm IVC Research Center Ltd. and law firm Zysman Aharoni Gayer & Co. (ZAG S&W) published Monday. In opposition to a trend seen in 2017, the share of early stage startups among the deals has gone up.

For daily updates, subscribe to our newsletter by clicking here.

The total sum and number of deals in the first quarter of 2018 were also were also an improvement upon the last quarter of 2017, which saw $1.41 billion invested in Israeli-linked companies in 161 deals, according to the report.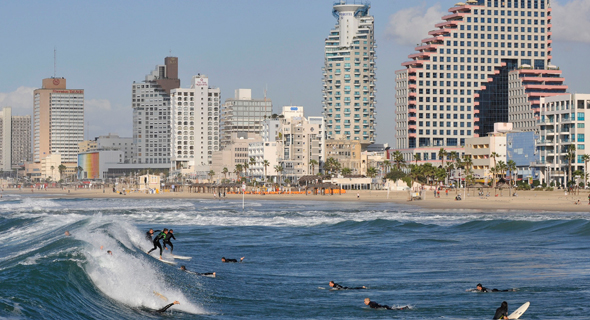 Tel Aviv. Photo: Bloomberg

"There is a reason for optimism," said Shmulik Zysman, managing partner at ZAG S&W, in a statement. "In the past years, usually, the first quarter figures were weaker compared to other quarters of the same year, mostly in capital amounts."

Nearly a quarter of the total venture money that went into Israeli tech companies in the first quarter of the 2018 is attributed to only three investment deals of over $100 million. Those are blockchain as a service company Orbs Ltd., which raised $106 million in March, social trading company eToro Group Ltd., which closed a $100 million E Series in March, and medical device company Insightec Ltd., which raised $150 million in early 2018.

The distribution of investments across rounds seems to have changed as well. For the first quarter of 2018, based on IVC data, 36% of the total amount raised went into A rounds, compared to 19% and 20% in the first and fourth quarters of 2017, respectively.

Despite continuous warnings of a forthcoming consolidation period in the cybersecurity market, the sector saw 34 deals this past quarter, compared to 18 in the fourth and first quarters of 2017. The total sum of investments for the past quarter, $287 million, did not change substantially year over year, as the increase in deals was spread over more early stage companies that raised smaller rounds.