Japan's Hoya Corporation Invests in Endoscopy Company 3NT Medical
Israel-based 3NT Medical will use the funding to develop and commercialize its products
Israel-based medical technology company 3NT Medical Ltd. has closed a major portion of its $15 million target funding round, the company announced Tuesday. The investor, Tokyo-headquartered Hoya Corporation, leads the round for 3NT.

For daily updates, subscribe to our newsletter by clicking here.

Hoya manufactures and supplies ocular products and devices such as eyeglasses, optical lenses and endoscopes, as well as key components for semiconductor devices, LCD panels and HDDs. The company employs over 36,000 people across some 150 global offices and subsidiaries, and reported revenues of $4.28 billion and a net income of $776 million for the fiscal year 2017. According to the statement, this is the corporation's first venture investment in an Israeli company.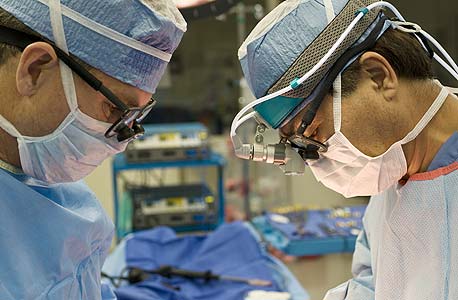 Surgeons (illustration). Photo: Shutterstock

Founded in 2013, privately-held 3NT Medical develops single-use endoscopes for ear, nose and throat (ENT) surgeries. Existing investors in the company include medical tech investment firm LongTec HongTao China Ventures LP.

"Hoya's investment in 3NT continues our commitment to partner with innovative medical device companies that align with our core strategic areas of interest", said in a statement Augustine Yee, chief legal officer and global head of corporate development at Hoya.

3NT Medical stated it will use the funding to develop and commercialize its products.