The U.N. Is Investigating Allegations That a Turkish Company Sold Israeli Electronics to Iran, Report Says
Capacitors manufactured by a Jerusalem-based company and sold to a Turkish company were intercepted en route to Iran, in violation of international sanctions, according to a report by Israel's Ynet News
The U.N. is investigating an allegation that Turkey has transported Israeli-made electronic components to Iran, Israel's Ynet News reported on Thursday. The electronic components in questions are listed among items and technologies which are restricted for export to Iran, according to a 2015 U.N. Security Council resolution, the report said.

For daily updates, subscribe to our newsletter by clicking here.

According to the report, the investigation was launched after a shipment of electronic capacitors manufactured by Jerusalem-based company Celem Power Capacitors Ltd. was intercepted in the United Arab Emirates in July 2017 while en route from Turkey to Iran.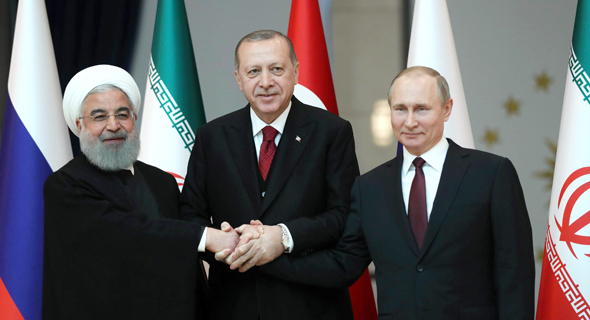 Iranian President Rouhani, Turkish President Erdoğan, and Russian President Putin. Photo: AFP

Following the interception of the prohibited components, the U.N. submitted a request to the Israeli government to cooperate on the investigation.

Ynet News' report cited a spokesperson for Celem Power Capacitors as saying the company sold capacitors to a Turkish company, denying any knowledge that they were intended for an Iranian client. Celem told Ynet News that the bulk of their sales are to European and North American Countries and that they plan to cooperate with the investigation fully.

The diplomatic relations between Israel and Turkey have been deteriorating amid the continuous Israeli-Palestinian conflict and in light of escalating violence in Gaza, where tens of thousands of Palestinians had been protesting near Gaza's perimeter fence since March as part of a campaign which calls for the right of Palestinian refugees to return to their lands in Israel.

On Monday, Turkey announced it was recalling its ambassadors from Israel and the U.S. In a speech in London that day, Turkey's President Recep Tayyip Erdoğan criticized Israel's actions in Gaza, calling Israel a "terror state" and saying it is carrying out a genocide. On Wednesday, Turkey expelled Israeli ambassador to Ankara Eitan Na'eh.