Manikay Acquisition of Tel Aviv Exchange Stake Faces Opposition
In a letter sent Monday, the CEO of the exchange said Israeli Bank Hapoalim is behind attempts to stall the deal
The sale of 19.9% of the Tel Aviv Stock Exchange to Australian firm Manikay Partners LLC is facing opposition in Israel, and the exchange's CEO Ittai Ben-Zeev is pointing fingers at Israel's Bank Hapoalim.

For daily updates, subscribe to our newsletter by clicking here.

In April, the exchange announced an agreement to sell 71.7% to foreign investors, among them Manikay, according to an exchange value of NIS 551 million ($156.3 million). The sale was the initiative of Mr. Ben-Zeev, following a 2017 amendment of Israel's securities law that forbids members of the exchange to own a stake larger than 5%.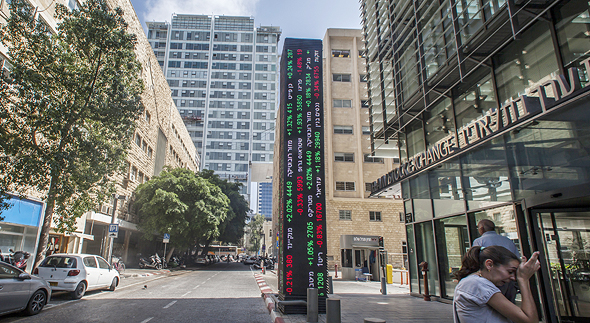 Tel Aviv Stock Exchange. Photo: Bloomberg

Last week, Calcalist reported that Israeli parliament member Mickey Levy scheduled a discussion regarding the sale at the parliamentary finance committee, due to concerns that new ownership might drive up commission rates. Also last week, two Israeli freedom of information advocacy group sent Mr. Ben-Zeev a letter demanding information about the deal with Manikay, citing a 2013 SEC probe into the firm that resulted in a $2.65 million fine for selling violations.

In a Monday letter reviewed by Calcalist, Mr. Ben-Zeev writes that based on information obtained by the exchange, the letter sent by one of the advocacy group advances the interests of Bank Hapoalim, going on to write the bank is behind the letter.

The exchange has been on a collision course with Hapoalim in recent months, following the exchange's decision to change its commissions and handling fees for its information services, a public draft for which was published in April. In early May, Hapoalim sent a letter to the exchange and to several regulators, stating the new price list will hike prices all around and decrease its availability to the public. At the time, Mr. Ben-Zeev replied that the bank is known for increasing the commissions it charges even if its own costs go down.

In reply to Monday's letter, Ran Melamed, the deputy director of Yedid the Association for Community Empowerment, which is one of the two organizations that criticized the upcoming sale, stated that Mr. Ben-Zeev's letter is off the mark. According to Mr. Melamed, while Bank Hapoalim is a donor to the organization, as are many other Israeli financial institutions, the advocacy group takes a stand for the public in its operations, including against the banks when it is necessary, and lobbies for laws that go against the interest of the banks, for example.

A spokesperson for Bank Hapoalim stated that the bank has no need to hide behind advocacy groups, as it has outlined its critiques clearly in the letter sent previously. Furthermore, the spokesperson said, instead of making accusations regarding lack of transparency, Mr. Ben-Zeev should disclose the details of the sale, which could potentially drive up prices for clients.