Following Gaza Fence Events, Indonesia Cancels Visas Issued to Israelis
Israel has no formal diplomatic relations with Indonesia, but the two countries maintain economic ties, and Israelis can visit the country using temporary tourist visas, and business visas
Indonesia has canceled visas issued to Israeli citizens and decided to ban Israelis from entering the country in response to the recent Gaza fence events, Emanuel Nahshon, a spokesman for the Israeli Ministry of Foreign Affairs, said in reply to a request for comment by Calcalist Monday. Mr. Nashon further said the Israeli ministry is currently trying to reverse Indonesia's decision.

For daily updates, subscribe to our newsletter by clicking here.

Israel has no formal diplomatic relations with Indonesia, but the two countries maintain economic ties, and Israelis can visit the country using temporary tourist visas for groups, and individual business visas.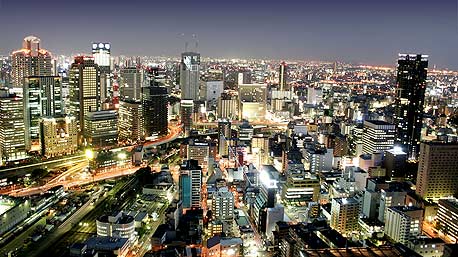 Indonesia's capital city Jakarta. Photo: Shutterstock

The mass demonstrations at the Israel-Gaza border, during which tens of thousands of Palestinians march under a campaign calling for the right of Palestinian refugees to return to their lands in Israel, have been ongoing since the end of March. On the Palestinian side, some protestors used machine guns, Molotov cocktails, and improvised explosive devices such as burning kites sent to set Israeli fields on fire. Israeli defense forces have responded with live munition and non-lethal anti-riot measures. According to the Hamas-run health ministry in Gaza, there were 64 dead and almost 3,000 injured on the Palestinian side as of Saturday.

On Wednesday, a Hamas official stated that 50 out of 62 then casualties were Hamas members, while a spokesman for the Palestinian Islamic Jihad said that three of the casualties were members of its military wing.

Israel's response to the protests drew wide-ranging condemnations. Turkey, with which Israeli relations have been deteriorating for some time, temporarily expelled the Israeli ambassador, subjecting him to strict security procedures at Istanbul airport and inviting Turkish press to film the screening. In response, Israel's ministry of foreign relations summoned a senior Turkish envoy to the ministry, subjecting him to a strict security screening in front of Israeli press before administering a diplomatic dress-down.

On Friday, the UN Human Rights Council voted 29-2, with 14 countries abstaining, to investigate Israel for its actions against the protests. In a statement, the Israeli Ministry of Foreign Affairs said the investigation has a "foregone conclusion," and Israeli Prime Minister Benjamin Netanyahu called the council "hypocritical and biased." U.S. representative Theodore Allegra also spoke against the decision, stating it was ignoring Hamas' culpability in the clash. The U.S. and Australia were the only two countries to vote against the decision.

In an interview conducted last week with Al Jazeera, Hamas co-founder Mahmoud al-Zahar said that the organization was "deceiving the public" when talking about "peaceful resistance," and that the protests were backed up by military force. In a column published Sunday on the Wall Street Journal, Israeli military spokesman Brigadier General Ronen Manelis stated that Hamas is paying protesters $14 for a single person and $100 for a family, and upping that to $500 for injuries sustained during the confrontations.

The ban decided upon by the Indonesian government already went into effect last week, alongside strong condemnations for Israel's actions in Gaza, labeling the events as "atrocities."

The decision may be seen as a turnabout: in May, the head of the Israel-Indonesia Chamber of Commerce Emanuel Shahaf said that negotiations regarding the issuance of individual tourist visas to Israelis were nearing their final stage, though no final decision was made.

The Israel-Indonesia Chamber of Commerce declined to comment.

Last week, Israeli travel companies sent notices to Israelis planning a visit to Indonesia, saying existing visas may be voided. Those notices were accompanied by assurances that both the companies and the Israeli embassy in Singapore were working to reverse the ban.

In a Monday letter reviewed by Calcalist, Ronen Raz, the CEO of travel company Echo, canceled a three-week tour to Indonesia, set to leave Tuesday.

"Following repeated attempts, we are forced to announce the cancellation of the tour to the nature reservations of Indonesia," he wrote. Mr. Raz further noted that his company was notified by the Israeli embassy in Singapore that the ban is a result of a decision made by the Indonesian government.

Echo and Mr. Razed have yet to respond to a request for comment.