U.S. to Propose Israeli Concessions in Jerusalem as Part of Peace Plan, Report Says
The relocation of the U.S. embassy to Jerusalem last week saw a spike in Israeli-Palestinian violence
During his May visit to Israel, senior White House advisor and envoy to the Middle East Jared Kushner presented President Donald Trump's "ultimate deal" to Prime Minister Benjamin Netanyahu. According to a Friday report published in Israeli daily Yedioth Ahronoth, the plan includes the relinquishment of Arab neighborhoods in Jerusalem.

For daily updates, subscribe to our newsletter by clicking here.

The Israeli-Palestinian conflict has been a cornerstone of the international policy of President Trump, who traveled to the Middle East in his first official trip as president. In December, he announced a decision to relocate the U.S. embassy from Tel Aviv to Jerusalem, calling the move "a long-overdue step to advance the peace process and to work towards a lasting agreement." The announcement led to much international criticism and induced doubts about U.S. impartiality in the peace process, as both Israel and the Palestinians lay claim to Jerusalem as their capital and consequently most countries maintain their embassies in Tel Aviv.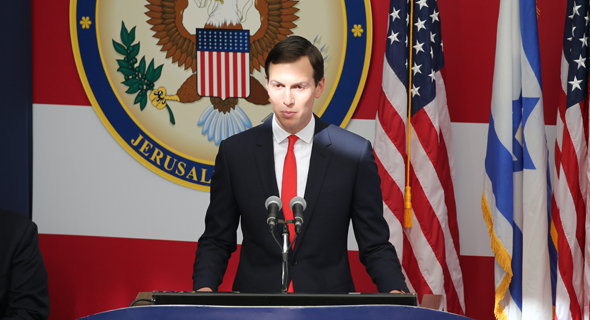 Jared Kushner in Jerusalem. Photo: Amit Shabi

On May 14, the U.S. embassy opened in its new Jerusalem location, to a background of violent Israeli-Palestinian clashes alongside the Gaza border, which have been ongoing since late March. Mr. Kushner and his wife Ivanka Trump arrived in Israel for the inauguration ceremony, accompanied by U.S. Secretary of Treasury Steven Mnuchin.

At the ceremony Mr. Kushner, who has been tasked by his father-in-law with brokering the Middle East peace deal, said that the administration believes "it is possible for both sides to gain more than they give, so that all people can live in peace, safe from danger, free from fear, and able to pursue their dreams," adding that "Jerusalem must remain a city that brings people of all faiths together."

In Friday's report, senior Yedioth Ahronoth commentator Sima Kadmon cited an undisclosed senior political figure, who stated that during a meeting between Mr. Netanyahu and Mr. Kushner, the latter presented the upcoming U.S. peace plan, and that it will include Israeli concessions regarding the Arabic neighborhoods in Jerusalem. According to the report, the person further pointed out that never once had the American president or one of his representatives committed to a "unified Jerusalem."

Also on Friday, The Associated Press reported, based on five U.S. officials and a congressional aide, that Mr. Trump intends to reveal the peace plan in mid to late June, shortly after Ramadan ends. According to AP, the main architects of the plan, Mr. Kushner and special envoy for international negotiations Jason Greenblatt, have already begun notifying allies and partners regarding the upcoming deal.

In an interview conducted last week with Vice Media co-founder Shane Smith and broadcasted on Youtube, Mr. Netanyahu stated the Palestinians must abandon their fantasy of destroying Israel and conquering Jerusalem, and that Israel will not disappear. When asked about the effect Mr. Trump's decision to relocate the embassy to Jerusalem might have on the peace process—as most mediators including previous U.S. administrations tied the official recognition of Jerusalem as Israel's capital to the resolution of the Israeli-Palestinian conflict—Mr. Netanyahu replied that what the current U.S. administration took off the table was not the peace process negotiations but the issue of Jerusalem being Israel's capital.

However, he also made what could be seen as allusions to future Israeli concessions. "He didn't define exactly where the line would be in Jerusalem," Mr. Netanyahu said about Mr. Trump, "but he said, it's very clear, that this part where we're sitting now, whatever, is going to remain Israel's capital."