IFF Partners with Perfumed Temporary Tattoos Company Amkiri
Earlier this month, U.S.-based IFF announced it will acquire Israel-headquartered flavor and fragrance company Frutarom for $7.1 billion
NYSE-listed Flavors & Fragrances Inc. (IFF), one of the world's largest flavors and fragrances companies, has announced on Thursday a partnership with Amkiri Ltd., an Israeli company developing perfumed temporary tattoos. The terms of the partnership were not disclosed.

For daily updates, subscribe to our newsletter by clicking here.

Earlier this month, IFF announced its $7.1 billion acquisition of Israel-headquartered flavor and fragrance company Frutarom Industries Ltd., confirming earlier Calcalist reports. In 2014, IFF paid $88 million for Israel-based specialty ingredients manufacturer Aromor Flavors and Fragrances Ltd.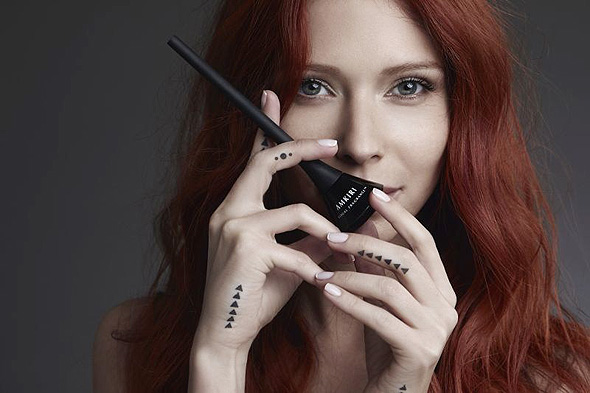 Amkiri's ink. Photo: Amkiri Ltd.

Headquartered in Tel Aviv with additional offices in New York, Amkiri develops a temporary tattoo ink that also functions as perfume. The ink, which can be applied free-hand or with stamps and stencils, comes in black, silver, and gold and retains its fragrance for up to 12 hours following application, according to company statements. The company also says its technology can be adapted to any fragrance and color.

Amkiri was founded in 2014 by designer Shoval Shavit, businessman David Chissick, who is also a backer, and chemist Aliza Shavit.

"Some of the most disruptive innovations come from the start-up community—this is as true in beauty care as it is in technology," Nicolas Mirzayantz, IFF group president of fragrances, said in a statement. "This extremely emotionally engaging technology brings a very timely category innovation to the marketplace," he added.

"The Visual Fragrance technology creates a new platform from which IFF can showcase our capabilities, including naturals, molecules, and cosmetic actives," said in a statement IFF Chairman and CEO Andreas Fibig. "The potential for innovative applications are nearly endless and our teams are truly inspired by the possibilities," Mr. Fibig said.