IronSource Alums' Company Zinc to Launch Digital Coin
Zinc, a Tel Aviv-based blockchain startup, is developing a crypto coin that would let users choose what personal data to share with advertisers in reward for premium content.
Zinc, a Tel Aviv-based blockchain ad startup founded by two IronSource Ltd. alums, is aiming to launch a new digital currency, CEO and co-founder Daniel Trahtemberg told Calcalist in an interview last week. Zinc develops a crypto coin that would let users choose what personal data to share with advertisers in reward for premium content.

For daily updates, subscribe to our newsletter by clicking here.

Founded by Mr. Trahtemberg, a former head of mobile fraud prevention at Israeli monetization unicorn IronSource Ltd., and listing the co-founder of IronSource bought Supersonic Ltd. Gil Shoham as chief advisor, Zinc lists IronSource as a design partner.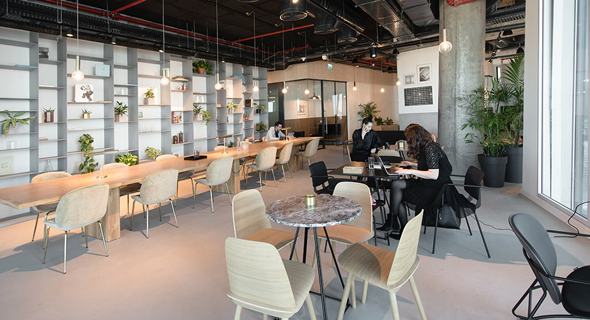 Labs office in Tel Aviv, where Zinc is based. Photo: Labs

Tel Aviv-based IronSource, originally a downloads optimization software developer, IronSource shifted its focus to rewarded ads following a series of acquisitions between 2013 and 2016. The company has raised $105 million to date and reports a global reach of over 1.5 billion active users each month. IronSource employs some 850 employees in over 10 countries worldwide including the U.S., U.K., China, India, and South Korea. IronSource had a 30% market share of all rewarded ads impressions in the first quarter of 2018, out of all ad distributors with over a million impressions, according to a report by Tel Aviv-based app analytics company Soomla Inc.

Mr. Trahtemberg told Calcalist that Zinc is headed towards a private initial coin offering (ICO) to fund the development of its platform. Mr. Trahtemberg did not provide a timeline or financial details of the planned ICO, but said that Israel-based Altshuler Shaham investment house is one of few entities negotiating to invest several millions of dollars in Zinc's new digital coin. If the negotiations are successful, Altshuler Shaham will execute the investment through its blockchain and cryptocurrency investment arm, Horizon.

Zinc's blockchain advertising protocol is based on the Orbs platform. Orbs Ltd. is a Tel Aviv-based platform building customized blockchain infrastructure for companies. In March, Orbs co-founder Tal Kol told Calcalist the company has raised roughly $106 million from unnamed customers and strategic partners.

Zinc employs a six-person team and has raised undisclosed seed investment from a single investor.