Exclusive
As Rewarded Ads Take Off, IronSource Sweeps Mobile Gaming Stakes
The company is currently valued at over a billion dollars, having reportedly doubled its revenue in the past year
IronSource Ltd. CEO and Co-founder Tomer Bar Zeev said in an interview with Calcalist last week that his company reaches 60% of U.S. gamers with its mobile gaming ads. The company is one of the top players in the rewarded ads market today, counting Facebook and Airbnb among its many customers.

"We assist game developers on two ends. On one end, we help them acquire new users," Mr. Bar Zeev explained, adding that IronSource reaches a billion unique users a month. "The other end is monetizing free-to-play games that they want to make money off."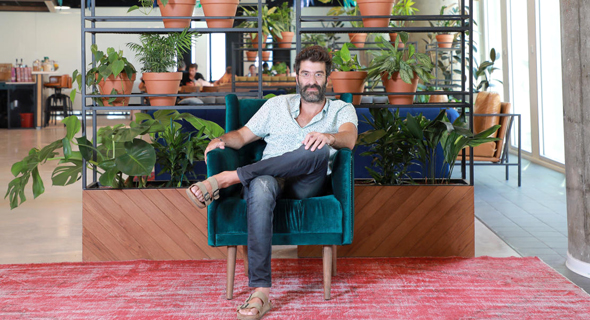 IronSource CEO and Co-founder Tomer Bar Zeev

Ad-based revenue will generate the majority of revenue for apps moving forward, according to market data company App Annie Inc. The Wall Street Journal cited company data saying mobile ad revenue this year saw an almost 90% increase from 2015, and will more than double again in 2018. Los-Angeles based mobile video advertising company AdColony reported in July that 75% of app publishers feel that rewarded ads are the most effective monetization method, even compared to in-app purchases (63%) or paid app downloads (14%).

IronSource, founded in 2009 in Tel Aviv, got its start by developing software that manages and optimizes downloads. Its first customers came from the Israeli adware industry. Adwares are software packages that automatically display advertisements on the device or redirect web searches to advertising websites.

The company made nine acquisitions throughout the years, changing its market focus. AfterDownload, bought in 2013 for $28 million, offered a software distribution and monetization service to advertisers and publishers. StreamRail, acquired in 2016, provides high quality and fast video streaming for various devices. IronSource's biggest acquisition was SuperSonic, a mobile advertising technology developer, bought in 2015 and integrated into the company.

"2017 is the first year we started to see the fruits of our acquisitions," Mr. Bar Zeev said. Giving SuperSonic as an example, he added that the integration of assets into existing operations takes time as well as legal and infrastructural work. "It's a company that was integrated into our mobile division, meaning that we had to unify servers, systems and teams."

One person familiar with the matter who spoke on conditions of anonymity told Calcalist that the company more than doubled its annual revenue, from $300-$400 million last year to around $800 million. IronSource is currently valued at over a billion dollars, having raised around $105 million to date, and has around 800 employees, mostly in Israel but also in 14 global offices.

In August, Calcalist published an article saying that IronSource was in talks with China-based private equity firm Primavera Capital Group regarding a possible acquisition by the latter, citing a person familiar with the matter. "IronSource has received offers this year like it did in the years before," Mr. Bar Zeev said, adding that each year the offers get bigger, some even surpassing a billion dollars. "If an offer is serious you need to consider it. But the question is, can I be worth more and enjoy myself on the way there, and the answer is obviously yes."

IronSource has a strategic plan to more than double the company in the next two years, including more acquisitions. The company is looking at both Israel-based and foreign companies. "We bought SuperSonic for a very large amount of money and will buy companies for a lot more money than that. We are a very profitable company with a lot of money in the bank."

Regarding their acquisition strategy, Mr. Bar Zeev said that it's easy to evaluate a company's product and technology, financial situation and employees, but they only acquire if they feel that there is an extremely good fit. "We spend time with the people we want to acquire. With the founding members. We need to be mutually convinced." Nine out of the ten founding members of the companies IronSource acquired are still with the company today.

If they are sure, they are very aggressive in pursuing deals. "We will never agree to a deal with earnout or reverse vesting," he said, adding that they prefer to build a partnership based on trust. He also said that he likes to make deals that combine cash and shares, so that "the people joining will enjoy the (stock) upside."

What about an IPO? Mr. Bar Zeev isn't ruling out the possibility. "Nasdaq is the interesting market. I think there are companies like us that are traded there very successfully," he said. "In the end the question is which companies are the ones that can achieve a high value. Investors want to see how fast you grow and your profitability."