Lava Reaches Hawaii's Puna Power Plant
The plant, owned by Israeli geothermal energy producer Ormat, supplies 25% of the Hawaiian island's electricity
Lava from Hawaii's Kilauea volcano has reached the island's Puna geothermal power plant on Sunday, covering one well and jeopardizing a second well, according to a report by the County of Hawaii Civil Defense Authority.

For daily updates, subscribe to our newsletter by clicking here.

Both wells had been plugged ahead of time to prevent the release of gas that could turn toxic when it comes to contact with lava, the report said. In a Sunday statement, the Hawaii Civil Defense Authority said all the wells are secured and stable.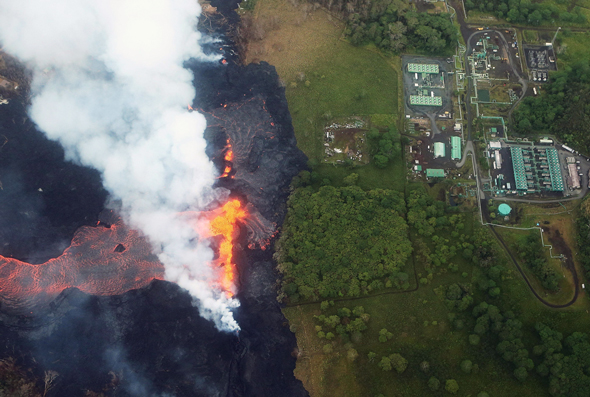 Lava reaches the Puna power plant. Photo: AFP

The 38-megawatt Puna power plant supplies 25% of the island's electricity.

The eruptions of the Kilauea volcano began May 3 at the vicinity of the plant operated by NYSE-listed Ormat Technologies Inc. The natural disaster has caused extensive damages to properties and open spaces throughout the island, forcing some 2,000 local residents to evacuate.

Earlier this month, Ormat announced it has taken several precautionary measures which include taking electricity generation offline, shutting down and physically covering the geothermal wells within the site and removing flammable materials from the facility.

Ormat owns a 63% stake in the plant, which, in 2017, generated approximately $11 million of net income and $20 million of adjusted EBITDA, the company said in a statement.

For the first quarter of 2018, Ormat reported revenues of $184 million, $132 million of which from the electricity segment. In July 2017, Tokyo-headquartered Orix Corporation acquired a 22% ownership stake in Ormat for $627 million.