3D Printer Maker Loses Second CEO in Two Years
Ilan Levin was appointed as Stratasys' CEO in July 2016. Earlier this month, the company reported a 6% year over year drop in revenue for the first quarter of 2018
Nasdaq-listed 3D printer maker Stratasys Ltd. is losing its second CEO in two years. On Tuesday the company announced Ilan Levin, who was appointed to the position in July 2016 to replace David Reis, will be stepping down as both CEO and director on Friday.

For daily updates, subscribe to our newsletter by clicking here.

Stratasys manufacturers 3D printers and production systems for several industries, including aerospace, automotive, healthcare, and consumer products. The company, which employs around 2,700 people, is dually headquartered in Minneapolis, Minnesota and Rehovot, Israel following a 2012 merger with Israeli printer manufacturer Objet Ltd.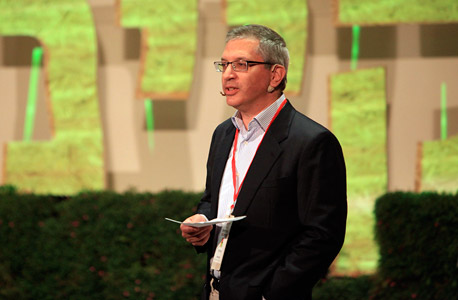 Ilan Levin. Photo: Aner Green

Prior to the merger, Mr. Levin was the president of Objet and a board member at Stratasys. Stratasys Chairman Elchanan (Elan) Jaglom will serve as interim CEO until a successor is appointed. Mr. Jaglom, who owns a 5.5% stake in the company according to a February SEC filing, is also one of the two board members charged with looking for a CEO. Mr. Levin will continue providing ongoing consultancy services "as needed," according to a statement by the company.

"Ilan has implemented a number of key decisions as CEO that have kept the company strong and ready for future expansion," Mr. Jaglom said in a statement. "We thank Ilan for his dedicated leadership of our Company during this phase in Stratasys' history."

Considered a leader in the 3D printing market, Stratasys' market capitalization peaked in early 2014 boosted by investors htpe. Lower than expected consumer sales brought the company's stock down by as much as 90% between September 2014 and February 2016, to $15.6. The company's stock price closed at $18.95 on Tuesday, and is showing a slight downwards trend in after hours trading.

Stratasys had a negative dividend yield of 33% over the past 12 months. The company came within the upper range of its updated financial guidance for 2017, but for the first quarter of 2018 reported a drop in revenue due to a reduced number of orders for high-end systems in North America markets. Revenue was down 6% year to year, falling short of analyst expectations and leading the company to report a net loss of $13 million for the quarter.

"We do not believe that our first quarter revenue represents a fundamental change in the demand environment in the North American market," Mr. Levin stated at the time.