Citizen Lab Calls on Francisco Partners to Address Impact of Surveillance Products
Nasdaq-listed business intelligence company Verint is negotiating a $1 billion merger with NSO, an Israeli cyber surveillance company controlled by the private equity firm
The University of Toronto's Citizen Lab, a digital and human rights research group, has sent an open letter on Tuesday to San Francisco-based private-equity firm Francisco Partners, calling on the firm to address "the serious human rights impacts of the products and services" of its portfolio companies. On Monday, Calcalist reported Nasdaq-listed business intelligence company Verint Systems Inc. is negotiating a $1 billion merger with NSO Group, an Israeli cyber surveillance company controlled by the private equity firm.

For daily updates, subscribe to our newsletter by clicking here.

The Wall Street Journal first reported the two companies were holding talks.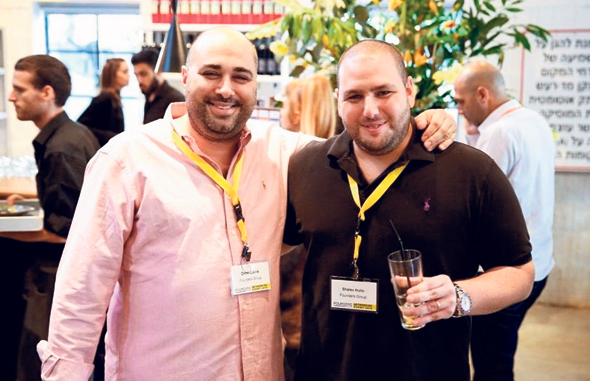 NSO co-founders Omri Lavie (right) and Shalev Hulio. Photo: Bar Cohen

Citing two people, Calcalist reported the two sides are discussing a cash and stock merger that will see NSO continue to operate as a stand-alone business unit under Verint. The deal is not finalized and may still fall through.

In 2016, researchers from Citizen Lab reported that a spyware developed and marketed by NSO was used in the United Arab Emirates to target human rights activist Ahmed Mansoor. In 2017, the group again pointed fingers at NSO's spyware, this time reporting it was used to target activists, journalists and political opposition in Mexico.

Following a 2017 report by Calcalist according to which Blackstone Group was negotiating a 40% stake acquisition of NSO, valuing the company at $1 billion, Citizen Lab published an online petition calling Blackstone to back out of the deal. The deal fell through in August.

In a December 2017 Hebrew language interview with 30 Minutes or Less, a podcast published by Microsoft Accelerator TLV, NSO co-founder Omri Lavie said the company conforms to Israeli, U.S. and European regulations regarding the sale of its technology.

"Our decisions are subject to review by a very strict internal ethics committee that examines things that governments may not, such as corruption and human rights," Mr. Lavie said, and the company only sells to "governmental bodies that are defined as legitimate by the majority of the world." However, once a sale is made, NSO does not know how its technology is used, nor do they wish to, he added.

In Tuesday's letter, Citizen Lab stated Francisco Partners and similar firms repeatedly invest in companies "with track records of product misuse in violation of human rights," and does nothing to address their impact. It is only a matter of time "before the law and mounting evidence of harm will begin to catch up with the surveillance industry," the letter states.

If the firm does indeed become the largest shareholder of Verint, Citizen Lab added, it will be in the unique position of being able to establish "robust rights-respecting standards for itself and its investment companies."