Palestinian Soccer Official Slams Messi Ahead of Jerusalem Exhibition Game
Argentinian soccer player Lionel Messi is scheduled to a play in a friendly game between Israel and his home country of Argentina this weekend in Jerusalem
The head of the Palestinian Football Association, Jibril Rajoub, has urged soccer fans to burn memorabilia related to Argentina's striker, Lionel Messi. Mr. Messi's fault: he is scheduled to lead Argentina's national team against the Israeli national team in Jerusalem at a pre-World Cup friendly match Saturday.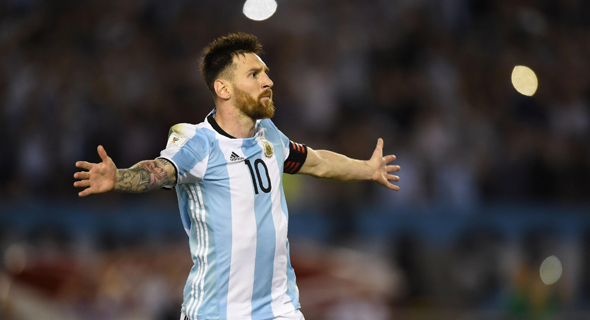 Lionel Messi. Photo: AFP

For daily updates, subscribe to our newsletter by clicking here.

In a press conference held Sunday in Ramallah in the West Bank, Mr. Rajoub said that if the international soccer star currently signed with FC Barcelona participates in the game, his millions of Palestinian and Arab fans should set fire to posters portraying his image as well replicas of his team uniform shirt.

In April, the Argentinian branch of the Boycott, Divest and Sanction movement (BDS), which seeks to pressure Israel around the Palestinian issue, started a campaign against Argentina's team taking part in the match.

The game was originally planned to take place in Haifa, a Jewish-Arab port city in the north of Israel, but was moved to Jerusalem after Israel's Ministry of Culture and Sports intervened. To have the game moved, the ministry paid NIS 2.7 million (nearly $760,00) out of the budget allocated for Israel's 70th Independence Day festivities, officially making the game part of the country's year-round celebration of its founding.

The change of venue has courted additional controversy for the exhibition game. The hosting arena is located in Malha, a neighborhood in West Jerusalem built on the ruins of the Palestinian village of al-Maliha, whose more than 2,000 residents fled from Israeli forces during the 1948 Arab-Israeli War. "The Israeli government has turned a sports match into a political tool," Mr. Rajoub said.

Israeli soccer is known as an extremely political sport, with teams often associated with specific political parties or movements. In May, the six-time national champion Beitar Jerusalem Football Club, announced plans to add U.S. President Donald Trump's last name to its club name, in honor of Mr. Trump's decision to move the U.S. embassy to Jerusalem. Mr. Trump's decision was condemned by Palestinians and widely criticized by world leaders who consider it a provocation. Beitar is historically associated with Israel's governing party, the right-wing Likud.

Tensions have been extremely high between Israel and the Palestinians since late March, when tens of thousands of Gazans started marching towards the fenced border with Israel in a series of protests calling for the right of Palestinian refugees to return to their lands in Israel.

118 Palestinians have been killed and thousands more injured since the clashes began, according to the Palestinian health ministry in Gaza. At least 60 of the casualties were killed on May 14, the day of the inauguration ceremony of the new U.S. embassy building in Jerusalem.

In May, a Hamas official claimed that 50 of the Palestinians killed were Hamas members, and the Islamic Jihad claimed three of the casualties were members of its military wing. In a column published later that month in the Wall Street Journal, Israeli military spokesman Ronen Manelis accused Hamas of hiring civilians as "extras" for the protests, paying $14 a head and $100 per family, and upping that to $500 if injuries incur.

Last week, after rockets were fired on Israel by Hamas and Islamic Jihad militants, Israel started a series of air strikes on targets within the Gaza Strip. Aided by Egyptian mediators, a truce was reached late last Tuesday according to Dawood Shihab, a spokesman for the Islamic Jihad, but hostilities were soon resumed as rockets were again fired at Israeli towns around the strip on Saturday, which brought Israel to resume bombing.