Israeli Tourism Organization Urges Government to Reconsider Ban on Indonesian Tourists
Last week, Israel issued a sweeping order banning all Indonesian nationals from entering the country following reports that Indonesia would not let Israelis in over events in Gaza
An Israeli tourism trade organization has urged Israel's Ministry of Foreign Affairs to reconsider its ban on Indonesian tourists from entering Israel for fear of financial damages to the local industry.

For daily updates, subscribe to our newsletter by clicking here.

Last week, Israel issued a sweeping order banning all Indonesian nationals from entering the country, starting June 9, after Indonesia declined entry to Israeli tourists, reportedly in response to recent events in Gaza.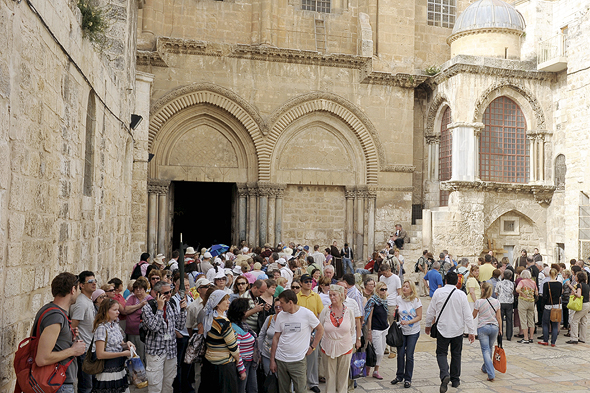 Tourist group in Jerusalem (illustration). Photo: Guy Asiag

Though no official diplomatic ties exist between the two countries, Israelis can visit Indonesia using temporary group tourist visas and individual business visas. The same rules currently apply to Indonesian visitors to Israel. Tens of thousands of Indonesians a year typically enter Israel under these rules. Before the current crisis, Israel and Indonesia were engaged in lengthy negotiations regarding the issuance of individual tourist visas to Israelis.

In an urgent letter sent Tuesday, the head of the Israel Incoming Tour Operators Association, Yossi Fatal, warned the decision would cause severe damages to the Israeli tourist industry due to cancellations of flights, hotel bookings guided tours and other services that have already been paid for.

In his letter, Mr. Fatal claimed Indonesia did not officially ban all Israelis from entering the country but instead denied entry on a case-by-case basis to about 50 Israeli tourists, calling Israel's response "disproportionate and ill-mannered."

Between 80 and 100 Indonesian tourist groups, were scheduled to arrive in Israel within the next three weeks but their temporary tourist visas would now be canceled, Mr. Fatal said in a phone interview with Calcalist on Tuesday.

Mr. Fatal asked the Ministry of Foreign Affairs to urgently convene with the Ministry of Tourism in order to find a solution and to immediately allow the entrance of all tourists who have secured their visas before the ban comes into force.

Following the incidents in Gaza, Turkey temporarily expelled the Israeli ambassador in Ankara, the UN decided to investigate Israeli actions, and various world leaders have condemned Israel's conduct. On Tuesday, following Palestinian pressure, Argentina canceled a friendly soccer game against Israel, which was scheduled for Saturday in Jerusalem.