Seven Startups Will Compete For a $1 Million JVP Investment
The finalists include a startup developing a robot vacuum cleaner for hotels, a printable sensors company and a startup optimizing traffic lights timing
Seven finalists will pitch their companies in the final round of the startup competition hosted by Israel-based venture firm Jerusalem Venture Partners (JVP) at an event that will take place in Jerusalem, June 18.

For daily updates, subscribe to our newsletter by clicking here.

The winning company will receive a $1 million investment offer from JVP. The exact terms of the deal were not disclosed. JVP intends to work closely with the winning company, chairman and founder Erel Margalit said.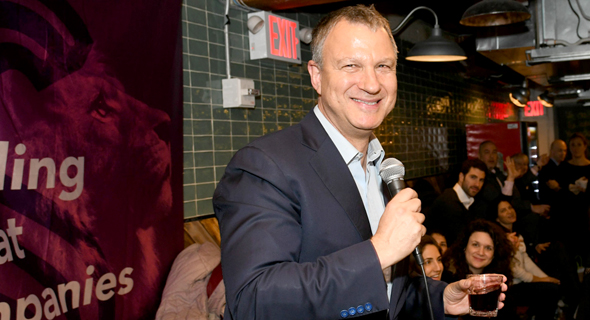 Chairman and founder of JVP Erel Margalit. Photo: Nir Arieli

"We will work to find strategic partners and connect the company with additional investors and potential clients," Mr. Margalit said in an email interview with Calcalist on Sunday.

The competition was open to Israeli companies ready to expand their operations to New York, as well as New York-based companies looking to establish operations in Israel, Yoav Tzruya, a general partner at JVP, said in the interview.

The seven finalists were picked from 16 companies selected to participate in the semi-finals held in March as part of Calcalist's Mind the Tech Conference in New York. The companies were asked to submit a detailed business plan, a product development roadmap, financial data, an operative plan for entering the market within a year and a long-term strategic plan for the next few years.

The finalists picked develop technologies in the domains of cybersecurity, e-commerce, robotics, internet of things (IoT), smart transportation, and media technologies, using artificial intelligence, machine learning, computer vision and cloud-based systems.

Mmuze Technologies Ltd.

Sector: E-commerce

Founders: Ran Zfoni, Efrat Blaier and Dorit Deddi

Year founded: 2013

Based in Herzliya, a town in the Tel Aviv metropolitan area, Mmuze develops automated conversation software for online shopping websites. The company raised around $2 million to date and lists eBay, Facebook and Microsoft Ventures as partners.

Browsi Mobile LLC

Sector: Adtech

Founders: Nathaniel Zenou and Lior Fisher

Year founded: 2016

Based in New York and Ramat Gan, a town in the Tel Aviv area, Browsi develops technologies that optimize the visibility of online ads in real-time, by analyzing the website's outline and placing ads where they are most likely to be noticed. Browsi counts Merriam–Webster Inc., Hearst Communications Inc. and Calcalist among its clients. The company raised $3 million to date from investors including Israel-based venture capital firm Pitango Venture Capital and ad optimization company Avantis Team Technologies Ltd.

Vicarius Ltd.

Sector: Cybersecurity

Founders: Michael Assraf, Roi Cohen and Yossi Ze'evi

Year founded: 2016

Based in Jerusalem, Vicarius develops machine learning technologies that protect specific applications by analyzing past attack patterns to predict and defend against future threats. Vicarius is currently in the process of raising a Seed funding round and employs seven people.

Mobi (Mobility Insight Ltd.)

Sector: Road safety

Year founded: 2013

Based in Glil Yam, a kibbutz in central Israel, Mobi develops smart traffic light controllers that identify vehicles approaching an intersection and optimize traffic light timing according to vehicle type and volume. The company has set up its system in Atlanta earlier this year. In the future, Mobi plans to integrate its system directly into vehicles, enabling them to communicate with traffic control systems. Mobi co-founder Moshe BenBassat, previously founded service management software company Clicksoftware Professional Services Ltd.

Feelit Technologies Ltd.

Sector: Nanotechnology

Founders: Meital Segev-Bar and Gady Konvalina

Year founded: 2017

Based in Haifa, a port city in Israel's north, Feelit develops printable sensors that can monitor the state of various materials. The sensors monitor a device's structural integrity, deformation, warping, wear and tear, internal or external pressure buildup, and internal or external material flow and inform manufacturers and users of any change. The technology is based on research conducted by Mr. Konvalina and Ms. Segev-Bar at the Technion – Israel Institute of Technology. The company's technology is currently being used in smart valves by a Japanese manufacturer to monitor the integrity of rubber parts and are being tested on devices from different industries.

Ras Robotics Ltd.

Sector: Robotics

Year founded: 2017

Tel Aviv-based Ras Robotics develops autonomous robotic systems for public institutions including hotels, universities, hospitals, office buildings, etc. The company markets robots operated by customizable apps that are capable of performing various tasks including cleaning, vacuuming, delivery, security and monitoring.

Deep Learning Robotics Ltd. (DLR)

Sector: Computer vision

Founders: Carlos Benaim

Year founded: 2015

Based in Ashdod, a port town in Israel's south, DLR develops a computer vision system that allows robotic arms to learn specific tasks by observing production-line workers. The system can be used on robotic arms, purchased from any manufacturer, according to the factory's needs. Using machine learning algorithms, the system allows for frequent adjustments in the arm's operations to account for packaging and product changes, without requiring expensive programming and engineering services.