FIFA to Launch Disciplinary Action Against Palestinian Soccer Chief, Israeli Official Says
The head of the Palestinian Football Association, Jibril Rajoub, led a campaign against a friendly game between Israel and Argentina, which was subsequently canceled
International soccer organization FIFA plans to launch disciplinary action against the head of the Palestinian Football Association, Jibril Rajoub, for his campaign against a friendly game between Israel and Argentina, the Israel Football Association (IFA) announced Wednesday. The game was canceled last week, several days before it was scheduled to take place in Jerusalem.

For daily updates, subscribe to our newsletter by clicking here.

The match was planned to be Argentina's final prep game before the FIFA World Cup tournament which starts on Thursday in Russia. Argentina has played five friendly games against Israel since 1973. The most recent game took place in Jerusalem in 1998.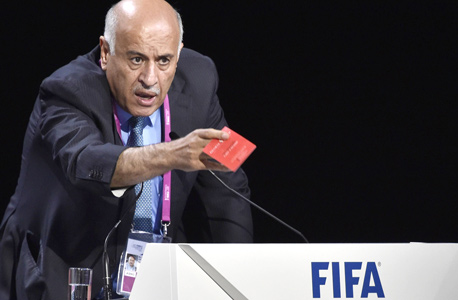 Jibril Rajoub, head of the Palestinian Football Association. Photo: AFP

Earlier this month, Mr. Rajoub called Palestinian and Arab soccer fans worldwide to burn memorabilia and items related to Argentina's striker, Lionel Messi. In a tweet confirming the game has been canceled, the Israeli embassy in Argentina referred to unspecified "threats and provocations" against Mr. Messi.

Also on Wednesday, FIFA rejected an amendment to its charter proposed by the Palestinian representative that would punish countries accused of human rights violations.

The match was scheduled at a time of heightened tension between Israel and Palestine. Since March, hostilities have resulted in over 100 Palestinians dead and thousands injured, according to the Palestinian health ministry in Gaza. Israel has said that Hamas paid civilians to take part in demonstrations at the Gaza-Israel border and that the group is responsible for the bloodshed.