Video
Israeli Defense Contractor IAI Reveals 'Suicide' Drone
In a video released by the state-owned company, the drone, designed to be carried, launched and controlled by a single combatant, is seen attacking several targets in heavy wind conditions
Israel Aerospace Industries Ltd. (IAI) has completed a proof of concept for a so-called "suicide drone that uses a grenade to attack targets, the IAI announced on Wednesday.

For daily updates, subscribe to our newsletter by clicking here.

IAI, which is controlled by the Israeli government, recently carried out a demonstration of its Rotem unmanned aircraft system designed to remotely attack and destroy targets in combat situations. The Rotem was designed to operate even in rough field and weather conditions. A video recording of the demo shows the drone attacking several targets under heavy winds in a desert area in Israel's south.

Weighing just over 14 pounds, including the grenade, the collapsable drone is designed to be carried, launched and controlled by a single combatant moving on foot.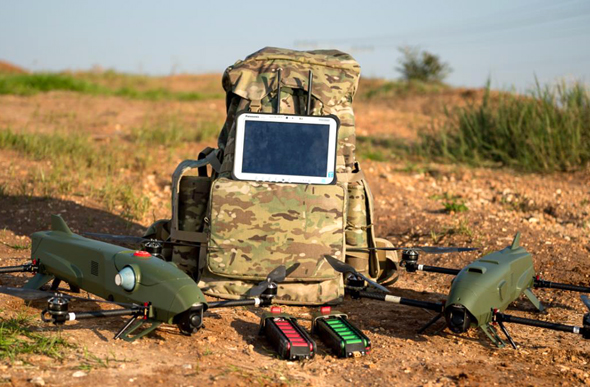 IAI's Rotem "suicide" drone. Photo: PR
Once in the air, the drone, operated by a quiet electric engine, transmits high-resolution visuals to a tablet device allowing the operator to monitor the situation and lock on to a specific target from a safe distance of up to six miles. The operator can abort or alter the drone's mission at any time.
Founded in 1953, state-owned IAI is Israel's largest aerospace and defense company, developing and manufacturing defense systems for air, space, sea, land, cyber, and homeland security. The company is listed at the Tel Aviv Stock Exchange.