JVP Doubles Investment Award in Startup Competition
JVP announced that two startups, cybersecurity company Vicarius and chatbot developer Mmuze, will receive a $1 million investment each
Two companies will receive a $1 million investment each from Israel-based venture firm Jerusalem Venture Partners after winning its startup competition. Mmuze Technologies Ltd., a company that develops automated conversation software, and cybersecurity company Vicarius Ltd., were announced as the winners of the competition at the finals event held in Jerusalem on Monday.

For daily updates, subscribe to our newsletter by clicking here.

Originally, only one company was intended to take home a $1 million investment, but JVP decided to double the amount in the final round of the competition. The prizes were awarded by JVP chairman and founder Erel Margalit and general partner Yoav Tzruya.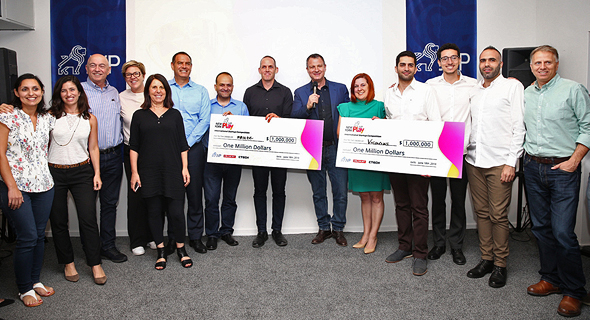 The winners receiving the award on Monday in Jerusalem. Photo: Orel Cohen

Seven finalists pitched their technologies at the event to a jury comprised of Mr. Margalit, Mr. Tzruya, Nimrod Kozlovski, a partner at JVP, Yoel Esteron, the publisher of Calcalist, Deneen DeFiore, a senior vice president at General Electric, and Julia Kagan and Barrel Kfir, both JVP Associates.

Over 120 companies applied for the competition that was open to Israeli companies looking to expand their operations to New York, as well as New York-based companies interested in establishing operations in Israel. In March, 16 companies participated in the semi-finals held as part of Calcalist's Mind the Tech Conference in New York.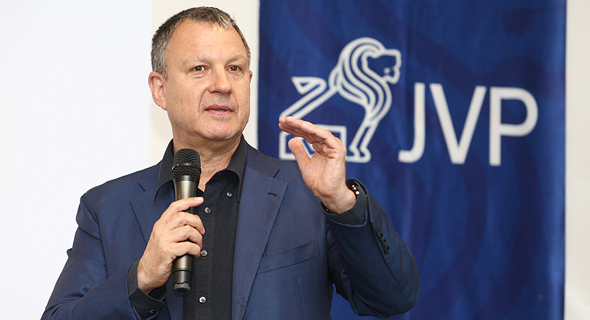 JVP chairman and founder Erel Margalit. Photo: Orel Cohen

Founded in 2016 and based in Jerusalem, Vicarius developed a technology for protecting specific applications by predicting and eliminating software vulnerabilities, before an attack can occur. The technology analyzes past cyberattacks to establish common characteristics and uses machine learning and reverse engineering in order to prioritize defense measures. Vicarius will use the funding to break into the global market, co-founder and CEO Michael Assraf said in a statement.

Listing eBay, Facebook and Microsoft Ventures as partners, Mmuze develops voice and text-based conversation bots for businesses. JVP's investment brings the company's total funding raised to around $3 million. Mmuze was founded in 2013 and is based in Herzliya, a Tel Aviv suburb

Other finalists included Browsi Mobile LLC whose technology analyses a website's outline in real-time and places ads where they are most likely to be noticed; Mobi (Mobility Insight Ltd.) that develops smart traffic light controllers capable of analyzing vehicle movement; Feelit Technologies Ltd., which develops nanotechnology-based printable sensors capable of monitoring the state of various materials; Ras Robotics Ltd. that develops autonomous robotic systems for public institutions such as hotels, universities, hospitals, and office buildings; and Deep Learning Robotics Ltd. a developer of computer vision systems that enables robotic arms to learn tasks through observation.

The jury was very impressed with the quality and technological range of candidates, Mr. Tzruya said in a statement. "The two winning companies operate in the core of large and growing global innovative industries: cybersecurity and e-commerce. Following our unique hands-on investment methodology, we aim to work closely with the CEOs and help them meet their goals, create value in the short term and achieve significant results," he added.