Ofo Bikes Used Over 1,000 Times a Day in This Israeli Town
In April, the Beijing-based bike sharing company launched two pilot programs in Israel—one in Ramat Gan, a town in the Tel Aviv area, and one at a research university campus, which was canceled earlier this week
Up to 1,300 rides a day are conducted using bike-sharing service Ofo in Ramat Gan, a town in the Tel Aviv area, the town announced Wednesday. The Beijing-based company launched a pilot program with 500 bicycles in the town in April.

For daily updates, subscribe to our newsletter by clicking here.

In a statement, the town said that 32,000 rides were made in May and that it estimates the number will rise to 40,000 in June, as students start their yearly summer vacation. As of December 2016, Ramat Gan had 153,700 residents, according to data from the National Insurance Institute of Israel.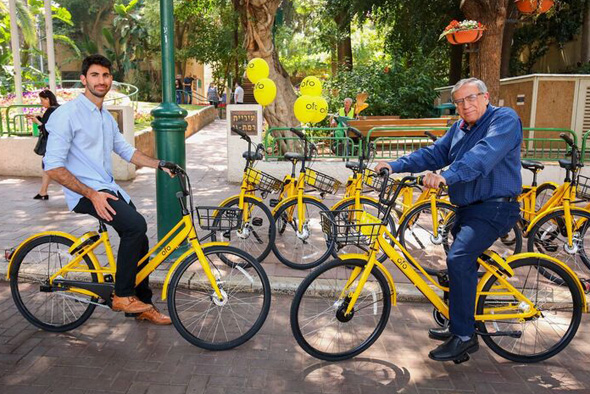 Ofo Israel's general manager Imri Galai (left) and Israel Zinger, the mayor of Ramat Gan. Photo: Shlomi Mizrachi

Shared bikes are proving to be an efficient alternative to traditional transportation measures, Israel Zinger, the mayor of Ramat Gan, said in a statement. Data collected by Ofo helped Ramat Gan map out the needs of bicycle users in the town and will allow it to plan and adjust infrastructure accordingly, Amnon Botz, a town official responsible for business development, added.

Ofo's service allows users to locate, unlock and pay for the GPS-traced bikes using a mobile app. Two local residents of Ramat Gan who spoke with Calcalist claimed the service has become a nuisance because, unlike similar services, it does not have allocated parking or docking stations, which means parked bikes often block the sidewalks.

Earlier this week, Yedioth Ahronoth reported Ofo has canceled its pilot at the Weizmann Institute of Science, a research university in central Israel, after just two months, mostly because users failed to return bikes to campus, causing higher than expected costs of retrieval.

Ofo has several competitors in Israel, including Tel-O-Fun, run by the city of Tel Aviv, and Beijing Mobike Technology Co. Ltd., which currently runs a free pilot program at the Tel Aviv University campus.