The Israeli Military's Short-Lived Plan for Drone Deliveries to Gaza Hospitals
The military considered whether a drone delivery service helping stock medical clinics in rural Rwanda might be applicable locally
The Israeli military briefly considered using unmanned aerial vehicles to deliver medical supplies to Gaza hospitals but abandoned the idea because of practical barriers to its execution.

For daily updates, subscribe to our newsletter by clicking here.

The idea was discussed during a recent meeting between officials from the military unit charged with carrying out Israeli policy toward Gaza and Zipline International Inc., a San Francisco startup that offers humanitarian delivery service in hard-to-reach regions using drones, according to people with knowledge of the meeting.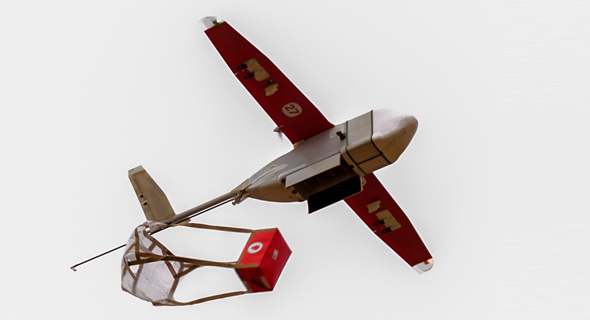 Zipline's drone. Photo: AFP

Air delivery would allow the Israeli military to reach the hospitals without the need to use land-crossings and roads that are controlled inside Gaza by Hamas, the militant Islamic group which has opposed Israel in several recent military confrontations.

Gaza's overburdened hospitals receive ground shipments of blood transfusion, medicine and other supplies from Israeli territory. In some cases of extreme need, Israeli authorities approve the transfer of patients from Gaza to hospitals in Israel, the West Bank, Jordan and elsewhere.

Zipline helps alleviate shortages of medical supplies in remote locations like in Rwanda. The company says it can complete deliveries to locations 50 miles away from a resupply center, using a drone that flies over its target and releases a package attached to a parachute.