Cybersecurity Company ThetaRay Raises $30 Million
Founded in 2013, ThetaRay uses machine learning algorithms to detect system behavior anomalies and threats such as ATM hacking, insurance fraud, and SWIFT-based attacks
Israel-based cybersecurity company ThetaRay Ltd. just completed a $30 million funding round, bringing its total equity funding to over $60 million. Investors included its largest shareholder Jerusalem Venture Partners (JVP), existing investors General Electric, SVP Investments, and Israel-based Bank Hapoalim, and also first-time investor Israel-based equity crowdfunding company OurCrowd Ltd.
For daily updates, subscribe to our newsletter by clicking here.
Founded in 2013, ThetaRay uses machine learning algorithms to detect system behavior anomalies and threats such as ATM hacking, insurance fraud, and SWIFT-based attacks. The company is based in the greater Tel Aviv area, with offices in New York and Singapore, and operates mainly in the financial sector, with clients including Amsterdam-headquartered ABN AMRO Bank N.V., the Spanish Santander Group, and Citi.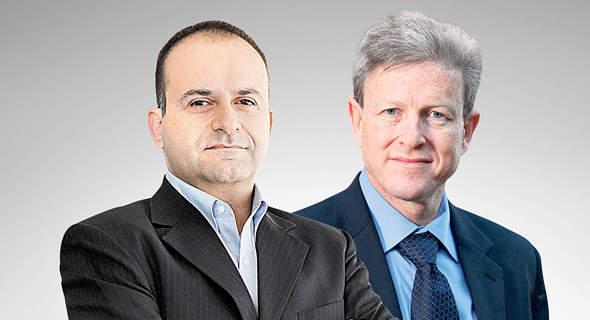 Yoav Tzruya (left), ThetaRay CEO Mark Gazit. Photo: Orel Cohen, Miki Noam Alon
ThetaRay's technology is based on an algorithm developed by two mathematicians, Amir Averbuch of Tel Aviv University and Ronald Coifman of Yale. it enables financial entities to identify issues such as money laundering at early stages.
According to ThetaRay CEO Mark Gazit, the technology developed by the company was able to discover a network of persons who laundered money to finance ISIS at "one of Europe's largest banks." "It identified that tens of thousands of people made a small donation to a specific account. A regular system wouldn't have picked up on that," he said in an interview.
The bank passed on the report to the Interpol, he said.
ThetaRay intended to raise $18 million in the round but changed the sum due to oversubscription, general partner at JVP Yoav Tzruya said.
ThetaRay intends to use the funding to hire additional employees, expand its existing operations in the U.S., Europe, and Asia, and expand to Africa.