A Country Made of Plastic: Israel's Addiction to Disposable Tableware
As countries worldwide attempt to reduce plastic consumption, in Israel demand for disposable tableware is on the rise
Ron Goldenberg, who owns a store for disposable tableware in central Israel, says he does not own multi-use dinnerware or cookware at all. "If you are into the environmental stuff then don't eat on disposable plates, but I live now, and all this environmental stuff is no concern of mine," he told Calcalist in a recent interview. Using disposables, he says, "the moment you finish eating you put everything in the trash including the tablecloth, and you just sit back and relax."
For daily updates, subscribe to our newsletter by clicking here.
A 2014 survey by Israeli business information group Coface BDi estimated sales of disposables and plastic tableware in Israel at around $124 million (NIS 450 million) annually. This year, BDi estimated that annual sales had reached $187 million (NIS 680 million), a 51% growth in four years.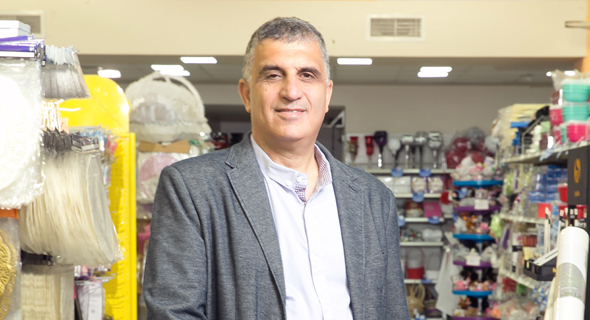 Peamit CEO Rami Sar Shalom. Photo: Orel Cohen

Retail data from research company Storenext Ltd. estimates annual sales of disposables in the country at $145 million (NIS 518 million).

Rami Sar Shalom, owner and CEO of Israeli disposables and packing products company Peamit Co., recently told Calcalist that Peamit is opening two to three new stores each year, and that the company is looking to set up an international retail chain. Founded in 1982, Peamit is one of Israel's largest suppliers of disposable tableware.

In June 2017, Apax Partners LLP bought 55% of Israeli discount retail chain Max Stock, another top player in the Israeli plastic and disposable product market, according to a company valuation of $83 million (NIS 300 million). Max Stock is listed as Max Management Israel Ltd. In May, Israeli cleaning products manufacturer Sano-Bruno's Enterprises Ltd., known as Sano, and investor Yitzhak Suary bought 50% of Israeli disposables company WinPac in a deal estimated at $37 million (NIS 135 million). In 2015, Neto Group bought Palace, a manufacturer of plastic, paper and aluminum disposable tableware, for $22 million (NIS 80 million).

According to Israel Aviav, co-founder and CEO of WinPac, Israelis consume the largest number of plastic cups in the world on a per capita basis. Based on his experience, he said, Israelis use more than 250 million plastic cups and more than 12 million paper cups per month. "Every office, every kiosk, every doctor's clinic, they all use plastic cups," he said.

Aviav links Israel's heightened use of disposables to a cultural tradition of hosting big family dinners, and to the preferences of the Orthodox Jewish sector.

At a Peamit chain store in central Israel, shoppers talked to Calcalist about their disposables using habits. Shoval Goharian, a young soldier, told Calcalist that her family uses only disposable tableware at home. "In the morning, I eat breakfast cereal out of a plastic bowl and drink coffee out of a paper cup," she said. "At lunch, my mom has no energy to wash the dishes so I use disposables. It's been like this since I was a kid. My dad is a clean freak, dishes in the sink drive him crazy."

A middle-aged Jewish orthodox couple told Calcalist they regularly use disposable tableware at home. "We have six kids and they eat constantly," they said. "We cannot have the sinks full all the time. It is a big expense, but one we have been living with for years, as part of our family budget," they said. "Every week we buy packs of disposable tableware. We use real dinnerware only when we have guests over for dinner."

At the Avi Carmel disposables store nearby, a young mother and daughter bought large quantities of disposables. The mother told Calcalist her daughter, 11, hardly ever eats with regular dinnerware. "It disgusts her, to eat from a dish someone had used before her," she said. Asked about the environmental effects of her plastic using habit, the mother is visibly appalled. "I have nothing to do with pollution," she said. "I'm so clean I'm practically sterile."

Much of the consumption of disposable tableware in Israel can be linked to the country's ultra-orthodox population. Netanel Leifer, an editor for online magazine Kikar Hashabat, which caters to ultra-orthodox readers, told Calcalist that ultra-orthodox neighborhoods have hundreds of disposables stores. "For every convenient store, there is a store selling disposable tableware. It is very common," he said. "Many Yeshivas use disposables regularly because it is cheaper than hiring a dishwasher full time," he said. "The ultra-orthodox society does not prioritize environmental issues," he said.

Plastic pollution is a worldwide epidemic. A recent report published by the Ellen MacArthur Foundation said that by 2050 the world's oceans will contain more plastic than ocean life. According to the report, 8 million tonnes of plastic are thrown into the ocean each year, equaling one full garbage truck dumped into the ocean each minute. In the Pacific ocean, somewhere between California and Hawaii, a huge floating island of plastic span 1.6 million square kilometers, 2.5 times the size of France and 80 times the size of Israel.

Growing awareness of the damage caused by plastic waste has led many countries to try and limit the use of plastic disposable tableware with education and legislation. In 2016, France made the selling of non-perishable disposable plates, cups, and cutlery illegal. The law will come into effect in 2020. The European Commission has begun promoting a similar law in May.

In June, Indian Prime Minister Narendra Modi announced that beginning in 2022, India will ban all single-use plastic. "The choices that we make today will define our collective future," Modi said. "The choices may not be easy. But through awareness, technology and a genuine global partnership, I am sure we can make the right choices. Let us all join together to beat plastic pollution and make this planet a better place to live."

Israel is willfully ignoring the looming problem of plastic pollution. Responding to Calcalist's request for a comment, Israel's Ministry of Environmental Protection said that it "does not have empirical data about the amount of waste linked to disposable tableware in Israel."

Galia Pasternak, a Ph.D. candidate at the University of Haifa's School of Marine Science, analyzed waste along Israel's shore between the years 2012-2018 as part of her dissertation. Pasternak told Calcalist that she discovered that the amount of waste along the Israeli shores is the highest in the world. "I began the research while I was working at the environmental protection ministry because we did not have the necessary data," she said. "One of the most disturbing findings was that about 90% of the waste along the shore is plastic, compared with a global average of 75%," Pasternak said that the amount of plastic waste, such as cups, straws, plates and food packaging, is rising. "Up until a year ago, we had a large concentration of plastic bags, but these went down with the law banning plastic bags." Israel began taxing the use of plastic bags in January 2017.

Israel's sea water is filled with microplastic, which are tiny plastic particles. Two surveys, one by the School of Marine Science and the other by the Euro-Mediterranean Center on Climate Change (CMCC), found that the quantities of microplastic off Israel's coast is nine times higher than the average in other Mediterranean countries.

"The European commission bill is designed to save the ocean, which is in grave danger," said Sandor Szelekovszky, the European Commission's economic attache to Israel. "Our goal is not to make all disposable tableware illegal but to provide an ecological alternative. Disposable cups and packaging could be manufactured from expendable materials."

It seems Israel is not even close to banning plastic tableware. "As far as our office is aware, there is no limitation on the import or export of disposables," the ministry of environmental protection told Calcalist.

"The best way to deal with this issue is to tax disposables like we did plastic bags," Asaf Rosenbloom, who heads the legal department at the Israel Union for Environmental Defense, told Calcalist. "If disposables will cost a lot of money, people would use less of them," he said. "The tax is justified—disposables are a burden on future generations, and those who use then should pay the price."

According to Rosenbloom, such regulations are still at least a decade away. "Israel is very late to the game," he said.

"Ecologically, it is not good for the environment," disposables retailer Goldenberg said. "Okay, those who think plastic is not good, should not buy it. What, to wash dishes with water and soap is good for the environment?" he said. "Plus, to wash dishes is not good for your health. The only thing that is sad is that everyone leaves trash around. Why is it so difficult to clean up after yourself?"

A previous version of this article incorrectly stated that the floating island of plastic in the Pacific ocean spanned 1.6 million square meters.